Traveling to South Korea and need a local SIM card for your phone? Getting a Korea SIM card can help you stay connected with affordable data, calls and texts while visiting the country.
In this guide, we'll cover everything you need to know about getting a SIM card in Korea: different tourist popular options and tips for saving data when using your Korean SIM.
Let's get started!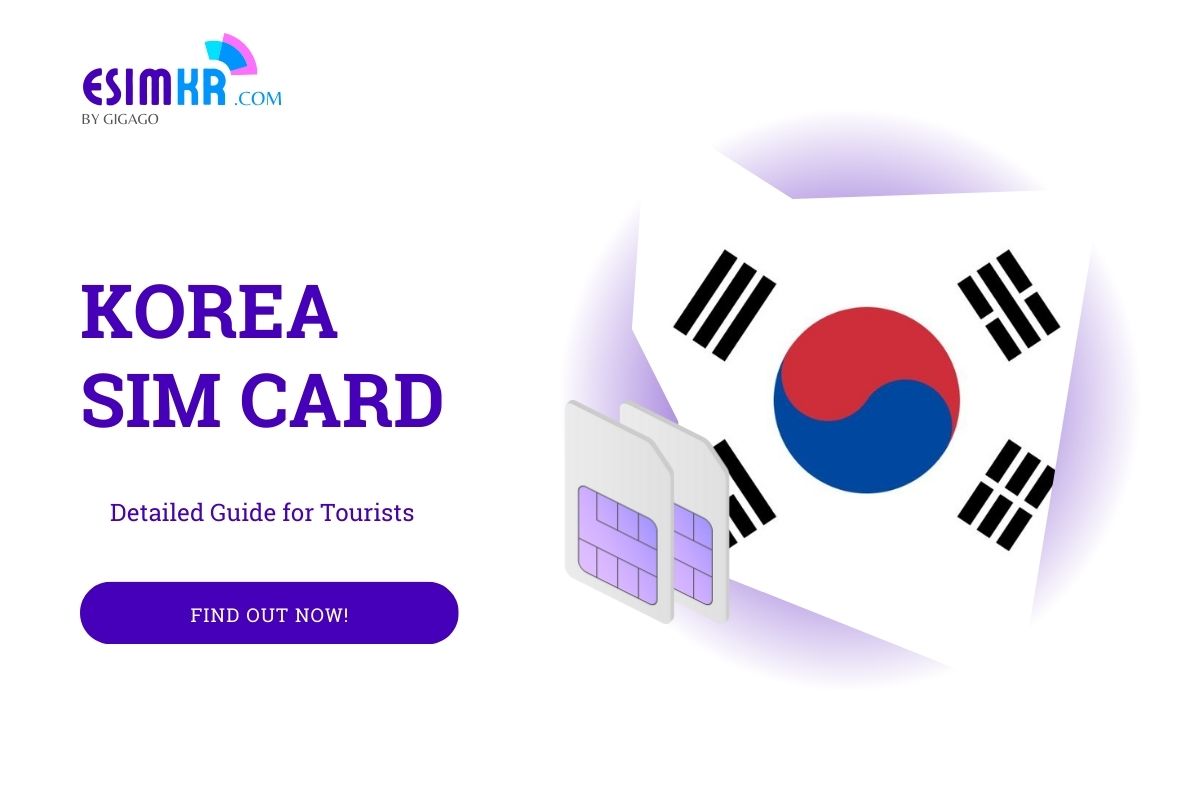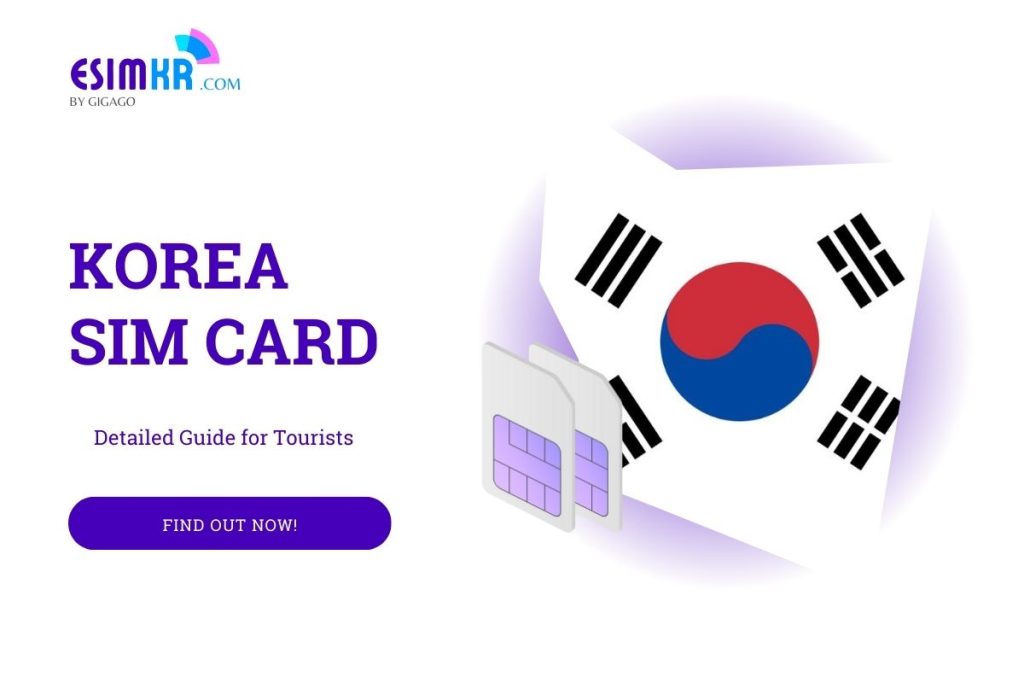 Table of Contents
I. Should I Buy a New SIM Card for My Korea Trip?
Getting a local Korea SIM card can make your trip easier and more affordable by letting you access maps, translations, and travel apps. It also gives you a Korean phone number so you can book activities, contact your hotel, and more.
The main reasons to get a new SIM for your Korea trip are:
Cheaper data – Roaming data through your home carrier is extremely expensive in Korea. A local SIM gives you cheap high-speed data.
Unlimited calls & texts – Most Korea SIM card plans come with unlimited domestic calling and SMS. Very useful for coordinating meetups with friends or family also visiting Korea.
Accessing Korean apps/websites – Some local apps and websites may require a Korean phone number to sign up. With a local SIM, you can access them easily.
Pocket WiFi rental – Many Korea SIM card providers offer pocket WiFi router rental for connecting multiple devices. Much cheaper than paying for roaming data on each device.
Flexibility – You can buy Korea SIM cards at the airport or convenience stores once you arrive. Gives you flexibility in case your trip plans change.
The only reason not to get a Korea SIM is if you have an International roaming plan from your home carrier with large amounts of affordable data, calls and texts. For most travelers, a local SIM card will be the better, more cost-effective option for staying connected in Korea.
II. Korea SIM Card Types – Which One is Best for Tourists?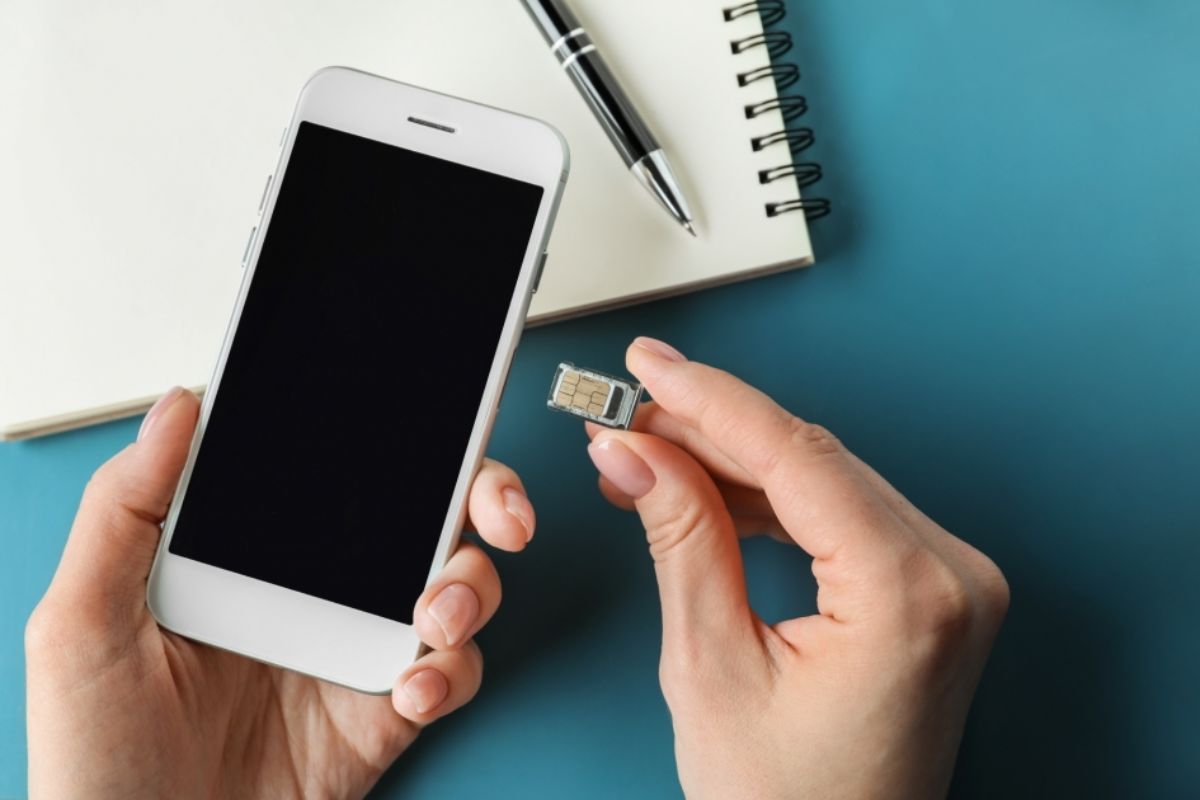 There are a few different varieties of SIM cards for tourists visiting Korea:
1. Regular 2G/3G/4G SIM Cards
Work for unlocked phones compatible with Korean carriers.
Provide a Korean phone number, data, calls & texts.
Speeds up to 450 Mbps on 4G LTE networks.
Most popular option for short term travelers to Korea.
Available as prepaid plans valid for a fixed number of days.
2. Global Roaming SIM Cards
Allow you to access mobile networks worldwide.
No need to swap SIM cards when traveling between countries.
Tend to be more expensive with lower data caps than local SIM cards.
Require an unlocked phone compatible with the network bands used.
3. eSIM Cards
Digital SIM profiles installed directly on phone or wearable.
Don't require a physical plastic SIM card.
Limited eSIM availability for Korea compared to local physical SIM cards.
Only compatible with phones that support eSIM (newer iPhones, Pixels and Galaxy S20 series+).
For most travelers, a regular Korea prepaid SIM card will be the best choice during your stay. They provide the most affordable data rates and highest speeds on the Korean networks.
Global roaming SIMs can be useful for trips involving multiple countries, while eSIMs offer convenience but a little bit higher prices. For an inexpensive, high-speed connection just within Korea, a regular prepaid SIM is tough to beat.
III. How Much Data is Enough for a Prepaid Tourist SIM Card for Korea?
Korea is an extremely connected country with free WiFi available at many cafes, restaurants and public areas. Still, you'll want a local SIM card with enough data for using maps, translations, and apps on-the-go.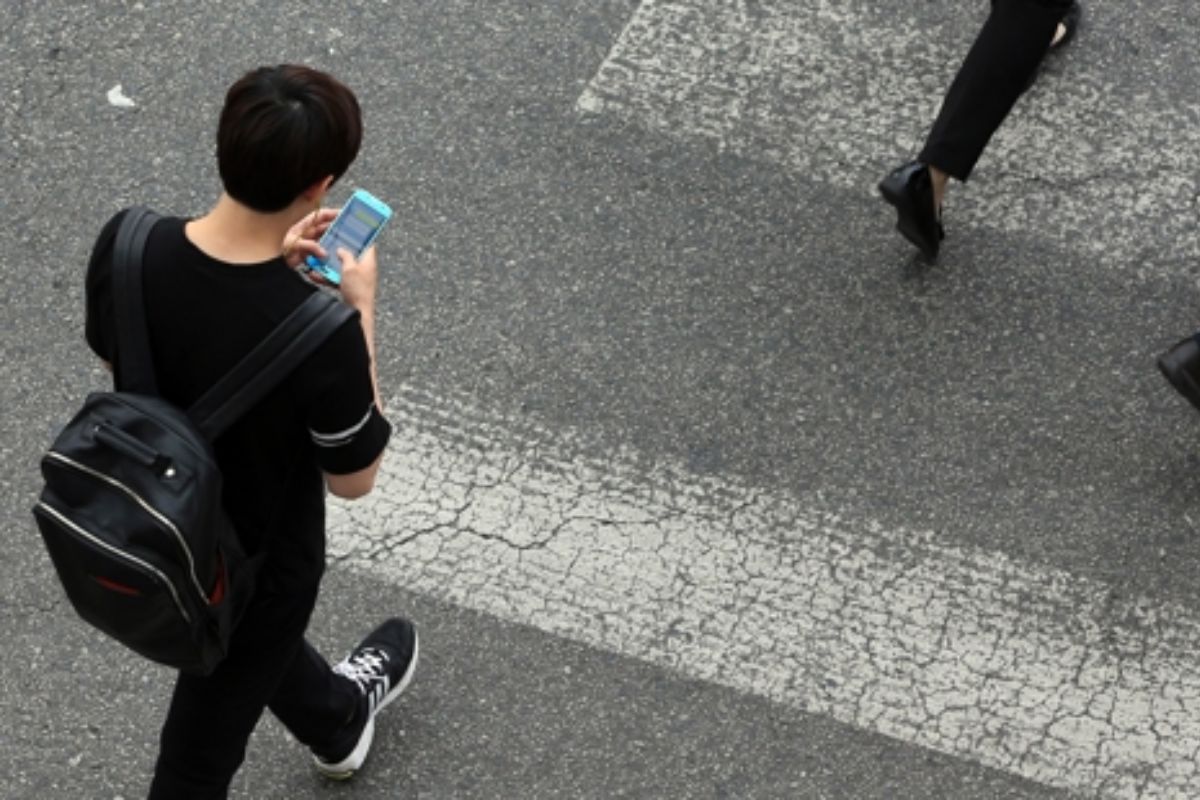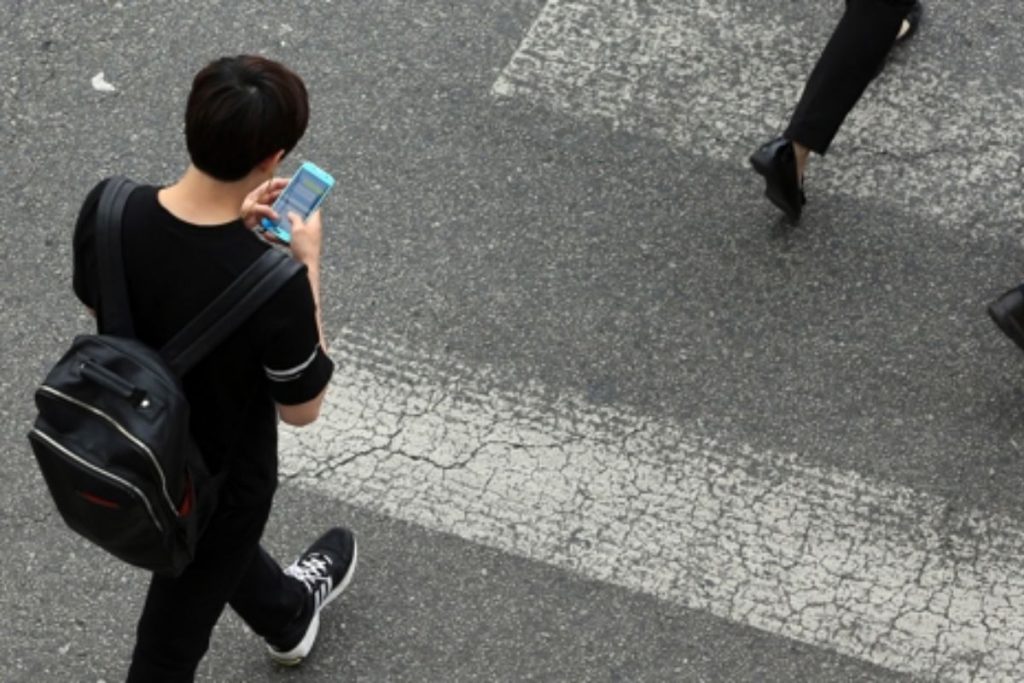 Here are some recommendations on Korea SIM card data amounts for different trip lengths and needs:
For 1-3 days in Korea – At least 2 GB of data should be enough to get around and look things up. You'll rely more on WiFi at your hotel and venues.
For 4-7 days – 5-8 GB of data makes it stress-free to use maps and apps freely. You can make some adjustments to limit large downloads for music/video.
For 8-14 days – 10-15 GB of data is usually plenty for this length of stay. You'll be able to use data regularly without worrying about running out.
For 15-30 days – 15-25 GB of data gives you room for heavier usage with maps, social media, videos and music streaming.
Longer business trips – For 1 month + stays, 30 GB or unlimited data plans are recommended so you don't ever run out.
For perspective, 1 GB of data is enough for about 2 hours of internet usage, 3 hours of music streaming, or 8-10 hours of light social media and web browsing. The more maps/apps you use, the more data you'll need during your Korea visit.
IV. How Much Does a Korea SIM Card Cost?
Korea SIM card costs have come down lately thanks to increased competition between mobile providers. Here are some typical Korea SIM card prices in 2023:
| | | | | | | | |
| --- | --- | --- | --- | --- | --- | --- | --- |
| Carrier | Plan Name | Data | Calls | SMS | Price | Price in US$ | Validity |
| LG UPLUS | DataSIM + Transportation Card | Unlimited data (3GB high-speed daily) | Free incoming calls | Charges apply for outgoing SMS and calls | Starting from ₩27,500 | $20 | 5-60 days |
| SK Telecom | PPS Smartphone | Unlimited data after 3GB daily limit | Charges apply | Charges apply | Starting from ₩166/day | $0.12/day | N/A |
| KT | Prepaid SIM | Unlimited data (3GB high-speed daily) | Free incoming calls and SMS | Charges apply for outgoing calls and SMS | Starting from ₩18,000 | $13 | 3-90 days |
In summary, the KT plan seems to offer the best value with flexibility in validity periods and free calls/SMS, while LG UPLUS provides additional transportation benefits but at a higher entry price point. SK Telecom has the most affordable daily rates but without inclusive calls/SMS.
When comparing Korea SIM card prices, be sure to verify:
Carrier rates for calls and texts to Korean numbers
Activation fees or deposits
Cost of SIM card delivery if ordering in advance online
Pocket WiFi rental rates if you need it
V. Korea eSIM – Alternative to Physical SIM Cards
In addition to traditional plastic SIM cards, some providers in Korea also offer eSIM plans. An eSIM or "embedded SIM" is a digital SIM profile that gets installed directly on your phone.
Here are some key advantages of using eSIM for your Korea trip:
Convenience – No need to physically insert a SIM card. Setup is done digitally.
Multi SIM capable – Have separate plans for Korea vs. home country on same device.
Theft resistant – eSIM can't be removed if phone is lost or stolen.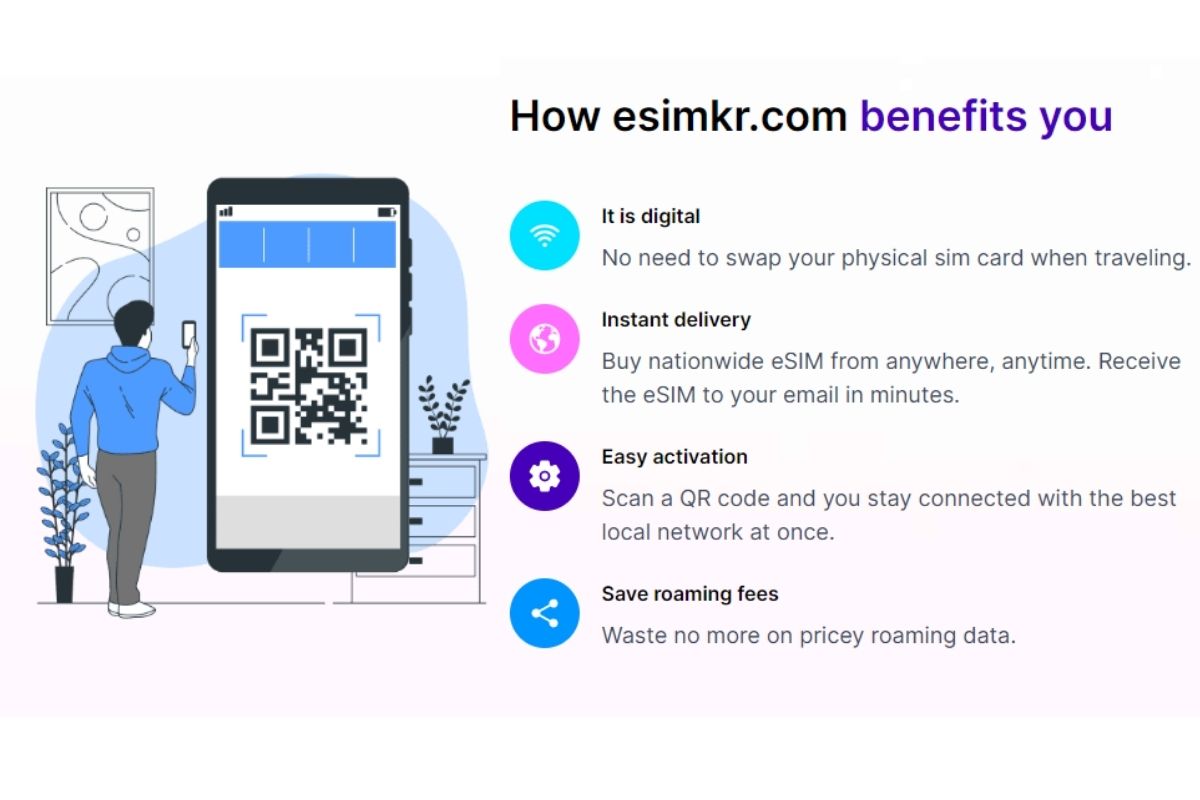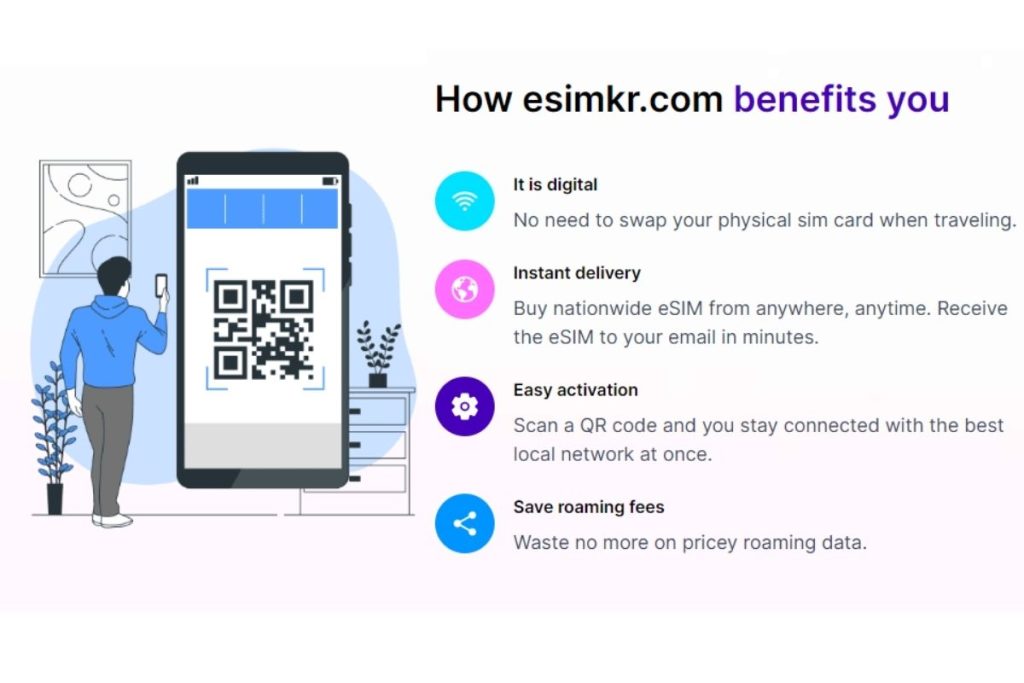 For a simple and affordable connectivity solution, esimkr.com by GIGAGO is a great option.
As one of the leading eSIM service providers in Korea, esimkr.com offers affordable and flexible data packages for both short term and long term travelers. With our wide selection of 3, 5, 7, 10, 15, 20 and 30 day packages starting from just $5.90, you can choose the plan that best suits your trip duration.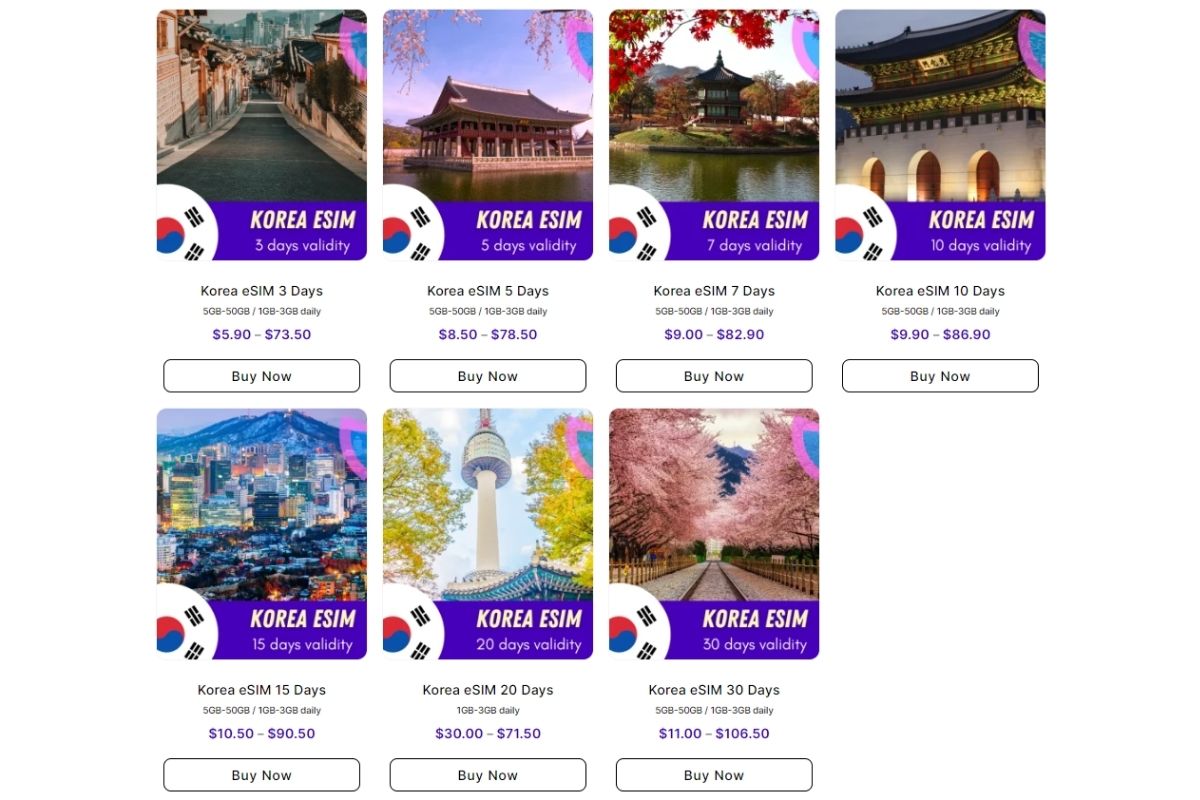 Best of all, once purchased you'll receive the eSIM profile immediately via email, allowing you to simply scan the QR code to instantly activate data in Korea – no need to mess around with roaming or buying a physical SIM card.
Whether you need 1GB or 50GB of data per package on the reliable SKT network, Korea's largest carrier, esimkr.com has you covered at affordable rates. So for an easy and hassle-free mobile experience abroad, esimkr.com is definitely the way to go.
VI. Where to Buy a Korea SIM Card?
It's easy to purchase a Korea SIM card in-country upon arrival at airport shops or convenience stores. But you can also order in advance online for delivery before your trip.
Here are some options for where to buy your Korea SIM card: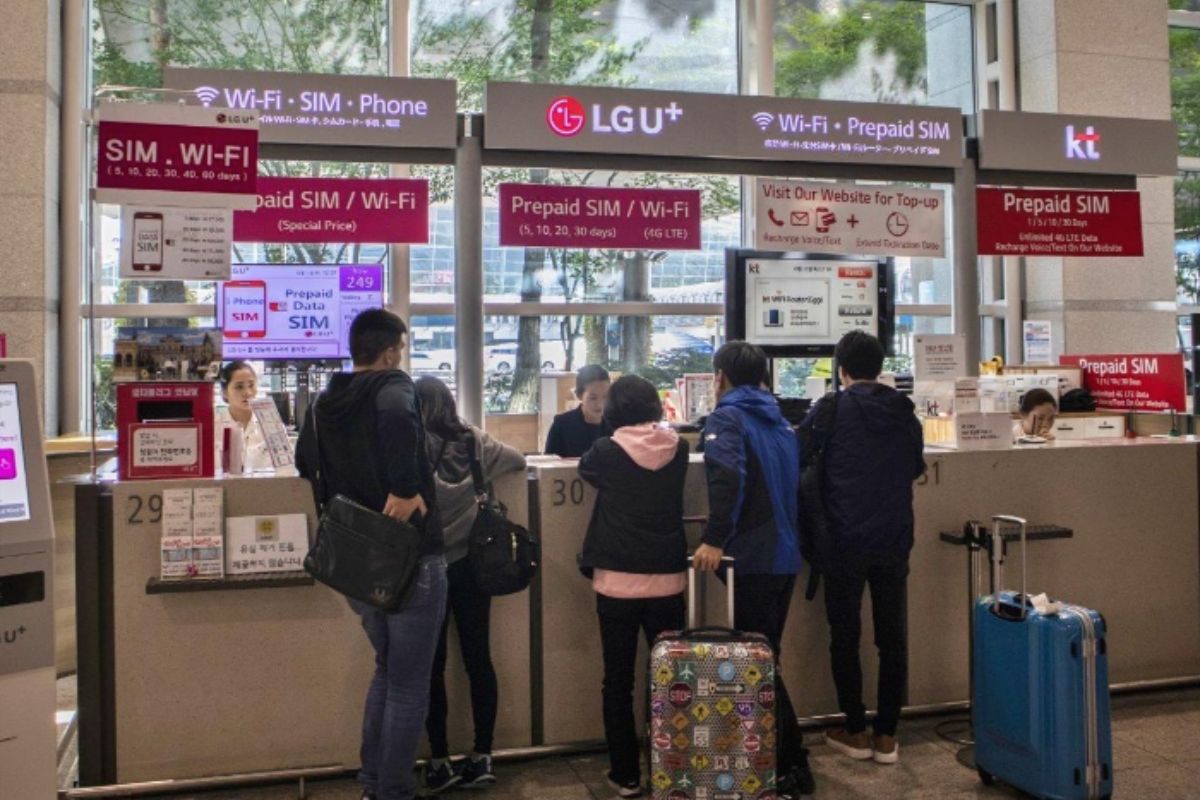 1. In Korea Airport Pickup
Once you land at Incheon or Gimpo airports in Seoul, head to one of the Korea SIM card providers run counters or shops:
KT Global Roaming – Counters at arrival halls and luggage claims of both airports.
SK Telecom Roaming – Available at both arrival halls. Offers T Roaming SIM card.
LG U+ Global Store – SIM card shop located at both Incheon and Gimpo airports.
Rentafone Korea – Independent retailer with airport pickup locations. Can deliver SIM to arrival gate.
Airport locations are handy for grabbing a SIM right after you land. Prices may be slightly higher than online or off-airport options though.
2. Convenience Stores
If you don't get a SIM card at the airport, look for major convenience store chains like GS25, CU and 7-Eleven. These all sell prepaid SIM cards from various providers.
By buying in-store, you can get help activating and setting up the SIM card on the spot. However, English assistance may be limited depending on the location.
3. Online Orders Before Arrival
For delivery prior to your trip, you can order Korea SIM cards online from sites like Klook, SimOptions or Voyagin. They ship to overseas addresses, as well as Korean hotels and Airbnbs.
Benefits of online ordering include:
Browse all SIM card plans comparisons easily
No language barrier or negotiating
Delivery to airport or accommodation
Support team helps setup
Downsides are less flexibility for changing trip dates, as well as delivery fees that can negate discounts. Still, online can provide peace of mind by securing your SIM card ahead of time.
Where you choose to purchase your Korea SIM will depend on your preferences for convenience, price, and setup help. Fortunately, there are plenty of options both online and in-person when you arrive.
VII. How to Use Korea SIM
Activating and setting up a Korean SIM card is a quick process when you follow these steps:
Insert SIM – Turn off your phone and insert the Korea SIM card into the tray. May require adapter if you have a nano/mini SIM.
Power on – Turn your phone back on. It should automatically configure to the Korean carrier network.
Setup access plan – Use the provider app or dial network codes to setup your prepaid data, calls and texts access.
Install apps – Download provider apps like KT Olleh, SKT T Map or LG U+ to manage your plan and usage. Useful free calling and transit apps.
Contact list – Add important Korean contacts like your hotel, tour operators and friends/family with local numbers.
WiFi assist – Enable WiFi assist to automatically join free hotspots and save mobile data. Turn off data roaming.
Enable LTE/4G – Go into network settings and enable LTE/4G for fastest speeds. Some SIMs default to slower 3G first.
Once setup, remember to turn on Airplane mode before leaving Korea and disable roaming to avoid unwanted charges. Then switch your regular home SIM card back in.
Having issues? Contact the provider's roaming support team by email or through social media. Many assist travelers with setup both before and during trips.
VIII. Best Mobile Operators for Korea SIM Cards
There are three major mobile networks in Korea, along with some smaller virtual carriers. Here's an overview of the top providers for tourist SIM cards:
| | | | | | |
| --- | --- | --- | --- | --- | --- |
| Operator | Subscribers | Network Strengths | Other Businesses | Coverage | Speeds |
| KT Corporation | 25-26M | Wide coverage, rural areas, stable speeds | Media, commerce, transportation | Nationwide 4G/5G | Average 5G speeds 350-400Mbps |
| SK Telecom | 20-21M | Dense cities, leading 5G provider | Security, AI, blockchain | Extensive metro coverage | Fastest 5G speeds, averaging 450Mbps+ |
| LG Uplus | 15-16M | Competitive pricing, metropolitan coverage | Broadband, EV charging, 5G solutions | Covers most major cities/towns | 5G speeds 400-450Mbps in testing |
Any of the major Korean networks will provide solid coverage and speeds for travel. No matter which company you choose, you'll enjoy lots of coverage and quick connections at affordable prices. It's easy to see why Korea's cell service is the envy of many other places. Now check out how these powerhouses compare!
IX. Tips for Saving Data on Your Korea SIM Card
To avoid surprise data overages or running out early, follow these tips for conserving mobile data on your Korea SIM:
Connect to free WiFi whenever available – Cafes, restaurants and malls often provide it.
Download offline Google Maps of Seoul/Korea and use GPS mode to navigate.
For subway navigation, pre-install Seoul Metro app and download station maps.
Limit video & music streaming which consume huge amounts of data. Download content when on WiFi.
Disable auto-play on apps like Facebook, Instagram and YouTube.
Turn off background data refresh and push notifications for non-essential apps.
Monitor data usage in your provider app and get alerts before monthly limit reached.
Consider getting unlimited data SIM if planning very heavy usage for maps/video.
Staying aware of your mobile data patterns allows you to optimize usage and avoid overages. With a few adjustments, you can easily make a fixed data plan last for the full duration of your time in Korea.
X. FAQs
Do I need to show ID or passport to buy a Korea SIM card?
At airport shops and convenience stores, you may not need to show ID to purchase a SIM card. However, registration of prepaid SIM cards requires verification now. Expect to submit passport details eventually before your SIM can be used.
Can I use a Korea SIM card in other countries?
Most Korea SIM cards only provide service domestically. Some global SIM cards like KnowRoaming will let you roam across Asia. To use your Korean number in other countries, enable international roaming via your provider. Extra charges will apply though.
Is free WiFi easy to find in Korea?
Yes, Korea has extremely widespread free public WiFi available in virtually all cafes, restaurants, malls, subway stations and many public places. Connecting to free hotspots whenever possible can help minimize reliance on SIM card data.
Can I use mobile payment apps with a tourist SIM card?
Unfortunately most Korean payment apps require a verified Korean bank account to use features involving money transfers or transactions. As a foreigner, you may be limited to only non-financial aspects like maps or transit features.
What happens if I run out of data on my Korea SIM?
Your SIM card data will stop working until you purchase an additional data pack. Some providers like KT offer emergency day passes for 1-3 days as needed. Contact your provider via the app or customer service to add more high-speed data.
XI. Final Words
A local Korea SIM card takes the stress out of staying connected and avoids pricey roaming charges. For affordable access to call, text and tons of high-speed data, a prepaid tourist SIM is a lifesaver during your travels.
Compare the mobile operators, data amounts and deals to find the right SIM plan for your trip duration and usage. With an inexpensive local SIM in Korea, you can use your phone freely without worrying about roaming rates again!
Have an excellent and productive trip to Korea! Feel free to reach out if you have any other questions.