Traveling to South Korea and looking for a reliable mobile network? SK Telecom is one of the top providers in the country, offering strong coverage, fast speeds, and convenient connectivity options for tourists. In this comprehensive guide, we'll cover everything you need to know about getting connected with SK Telecom during your trip to Korea.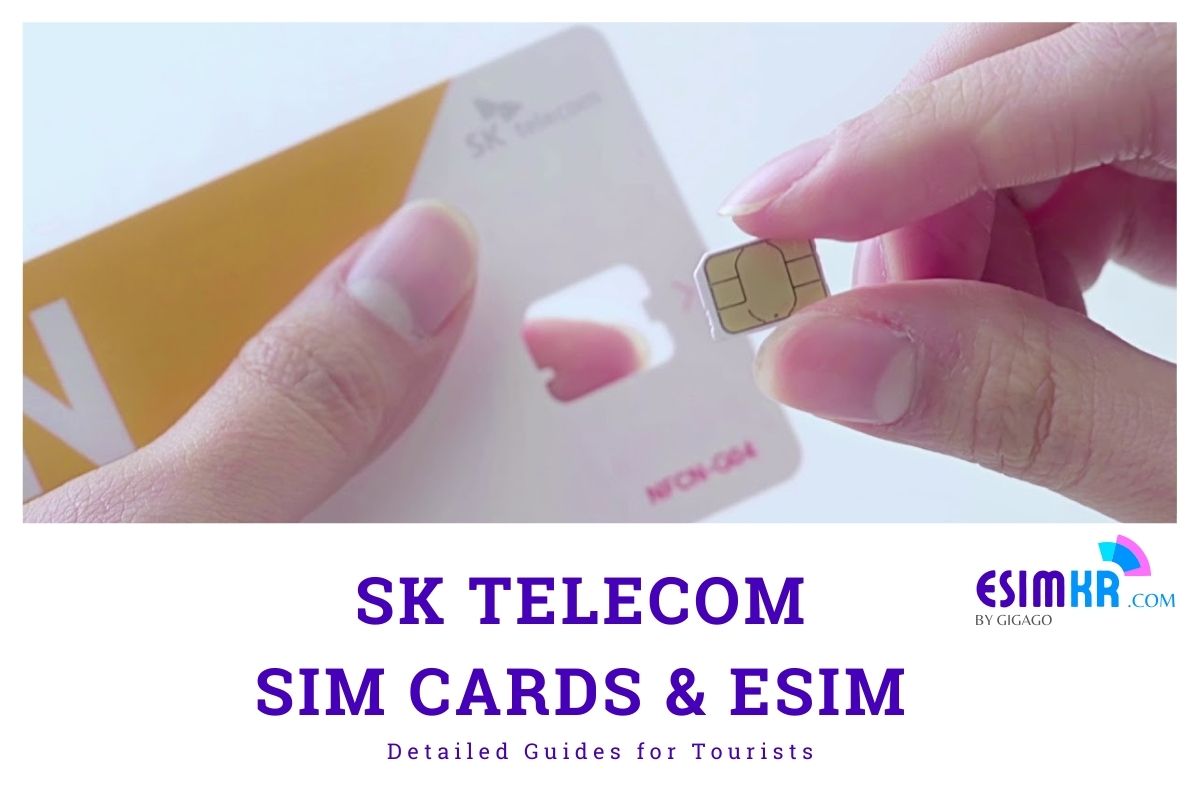 Table of Contents
I. Quick Facts about SK Telecom
SK Telecom has played an integral role in connecting Koreans for decades. Founded in 1984 as part of the respected SK Group, they began sharing new ways for voices to be heard.
Under their full name, SK Telecom Co., Ltd., reliable services like fast mobile networks, home internet and calls keep families and communities in touch. Whether through voice, video or data, they proudly serve over 30 million subscribers nationwide.
With continuous network expansion ensuring 95% population coverage, SK Telecom leads the future with innovations like 5G. Their nationwide network of caring retail professionals at over 2,000 locations provides helpful guidance whenever and wherever support is needed.
Through commitment to reaching both rural areas and major cities with equal care, SK Telecom helps bring greater understanding between all Koreans. Their story shows the positive impact that can come from prioritizing universal access to technological progress.
II. Why SK Telecom When You're Exploring Korea – Coverage and Speed
1. SK Telecom Network Coverage in Korea
With over three decades of experience, SK Telecom has built extensive network infrastructure across Korea. Its mobile network covers 95% of the population, reaching even remote areas and islands.
SK Telecom was the first provider to launch 5G in Korea in 2019. It now has the largest 5G network, available in all major cities and travel destinations.
This robust coverage makes SK Telecom a reliable choice for staying connected throughout your travels in Korea. You'll have a signal even in places other providers may struggle.
2. SK Telecom Speed
In independent mobile network tests by providers like Ookla and Opensignal, SK Telecom consistently ranks as the fastest mobile network in Korea.
Its 5G network offers lightning-fast speeds, with users reporting 500-900 Mbps downloads in Seoul. Even the 4G LTE network offers a respectable 30-60 Mbps speeds in most areas.
This means you can easily use data-heavy apps, stream HD video, and join video calls without buffering or lag issues. SK Telecom provides a seamless connectivity experience.
III. SK Telecom Connectivity Options for Travelers to Korea
SK Telecom offers several connectivity options for travelers.
The best option is to purchase a prepaid SIM card. These SIM cards provide unlimited data without speed restrictions or usage limits. They can be used for up to 90 days, which should cover most trips.
Another option is renting a pocket WiFi device for longer stays over 30 days. This provides 4G/LTE coverage across Korea, including popular areas like Nami Island, Busan, and Jeju Island.
Roaming is also available if you have a SK Telecom plan at home. However, roaming charges can be expensive compared to local SIM options. Additionally, not all international calls may be included.
For the best value and coverage throughout your trip, we recommend purchasing a prepaid SIM card. These are very affordable at around $30-40 and will work seamlessly throughout Korea. 
IV. Best SK Telecom SIM Cards for Tourists & Cost
SK Telecom offers various prepaid PPS (Pre-Paid Service) SIM card plans that are suitable for you visiting Korea. There are no registration fees or monthly basic charges for these plans. You can easily sign up by presenting a valid passport. The table below summarizes the key prepaid plans available and their associated daily basic fees, call charges, top-up limits and documentation required for signup:
Plan Name
Daily Basic Fee (USD)
Call Charges (USD/min)
Top-up Limit (USD)
Data Top-up Options (USD)
PPS Smartphone Premium
$0.40
$0.002/min
Up to $800
100MB - $1.60
500MB - $8
1GB - $12
2GB - $15.20
5GB - $26.40
PPS Smartphone Regular
$0.29
$0.0025/min
Up to $800
PPS Smartphone Plus
$0.22
$0.0027/min
Up to $800
PPS Smartphone Friends
$0.25
$0.002/min for designated lines, $0.004/min for other lines
Up to $800
PPS Smartphone Lite
$0.13
$0.0027/min
Up to $800
The PPS plans provide a flexible option for you to stay connected during your visit to Korea. By topping up credit in advance, you can make calls, send texts and use data directly from your prepaid SIM card without any commitments. This allows you to control your mobile expenses according to your usage requirements.
V. Does SK Telecom Support eSIM in Korea?
Yes, SK Telecom launched eSIM support in September 2022, becoming the first Korean carrier to do so.
An eSIM or embedded SIM is a digital SIM profile integrated into your phone. It works exactly like a physical nano-SIM card.
The key benefits of using eSIM with SK Telecom:
Convenience – Activated remotely without having to swap SIMs
Multi-SIM – Use your home SIM and Korean eSIM in dual SIM phone
Flexibility – Change plans or switch providers easily
If you're looking for an alternative to using the KT network, esimkr.com by GIGAGO also offers some very convenient eSIM options to consider.
We have a variety of affordable eSIM plans for Korea. Plans include 3, 5, 7, 10 and 15 day options with daily data allowances ranging from 1-3GB.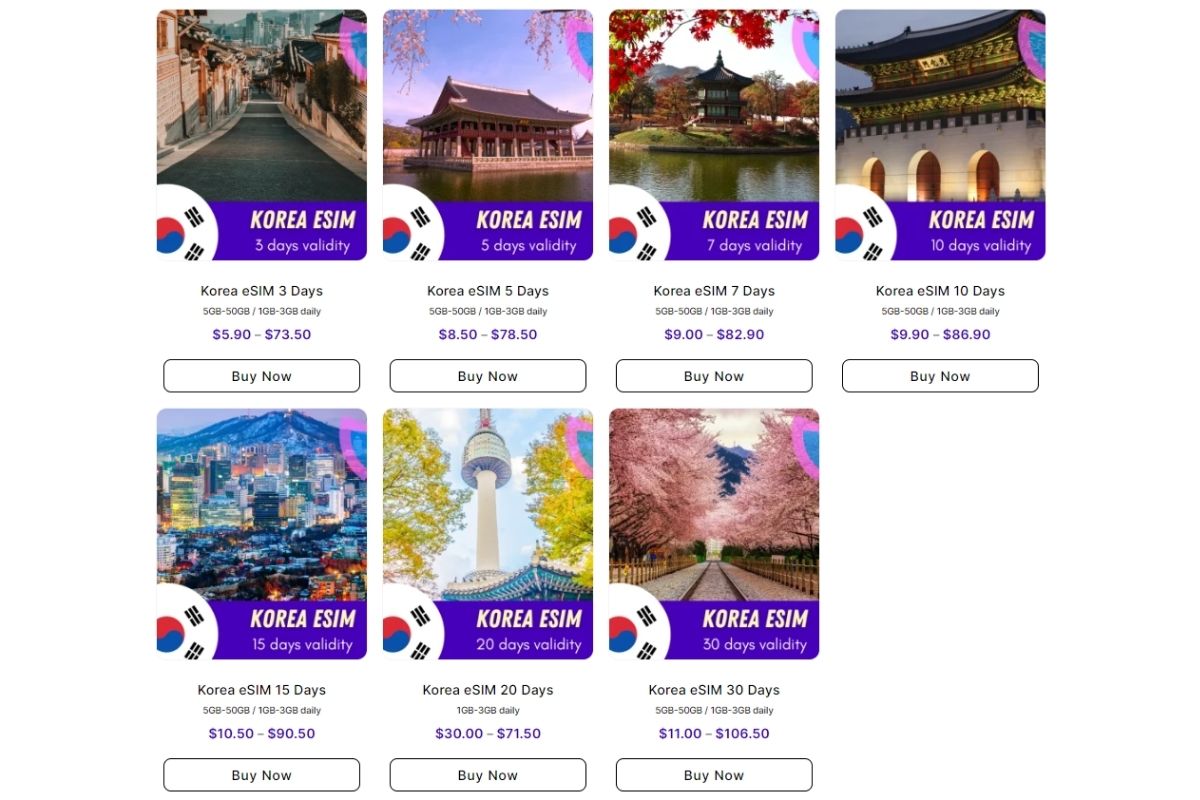 Prices start at around $6-10 per plan. Longer duration plans like 15 days provide better value, with data allowances between 1-3GB daily costing approximately $10-90.
A major advantage of these eSIM plans is that they can be purchased and activated completely online on a compatible device. This means you don't have to visit a physical store to get a SIM card.
VI. Where can You Buy an SK Telecom SIM card and eSIM?
1. Where to Buy SK Telecom SIM Card in Korea?
As a major mobile operator, SK Telecom prepaid SIM cards are widely available both online and offline:
Incheon Airport – Available 24/7 at convenience stores and SIM card counters
SK Telecom stores – Located in every city, stock tourist SIMs
Convenience stores – CU, GS25, 7-Eleven, Emart24 sell prepaid SIMs
Travel agencies – Offer tourist SIM card delivery to hotels
Online – Order via KoreaWifi or Travelsim.kr, delivered in 2-5 days
When purchasing at the airport or offline, you need to show your passport for registration. Online purchases may require scanned ID upload.
2. Where to Buy SK Telecom eSIM in Korea?
SK Telecom eSIM is more limited in availability as it was just launched:
Online -韩国畅游 and TravelSim.kr sell SK Telecom eSIM for delivery
Airports – Coming soon to Incheon and Gimpo airport counters
SK Telecom stores – Available at select central city store locations
Purchasing online is the most convenient eSIM option currently. It is delivered instantly via email or app within 1-3 days.
Another option is to order an eSIM profile from esimkr.com online before your trip for instant activation upon arrival in Korea.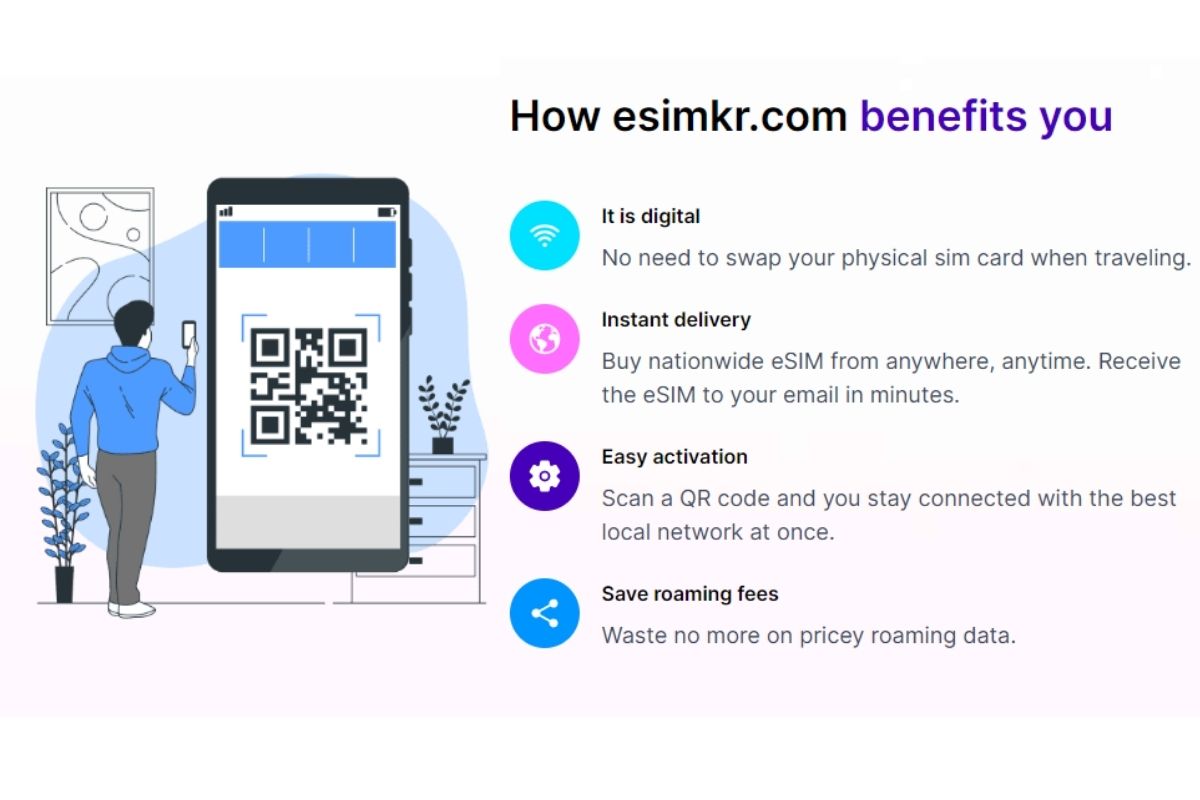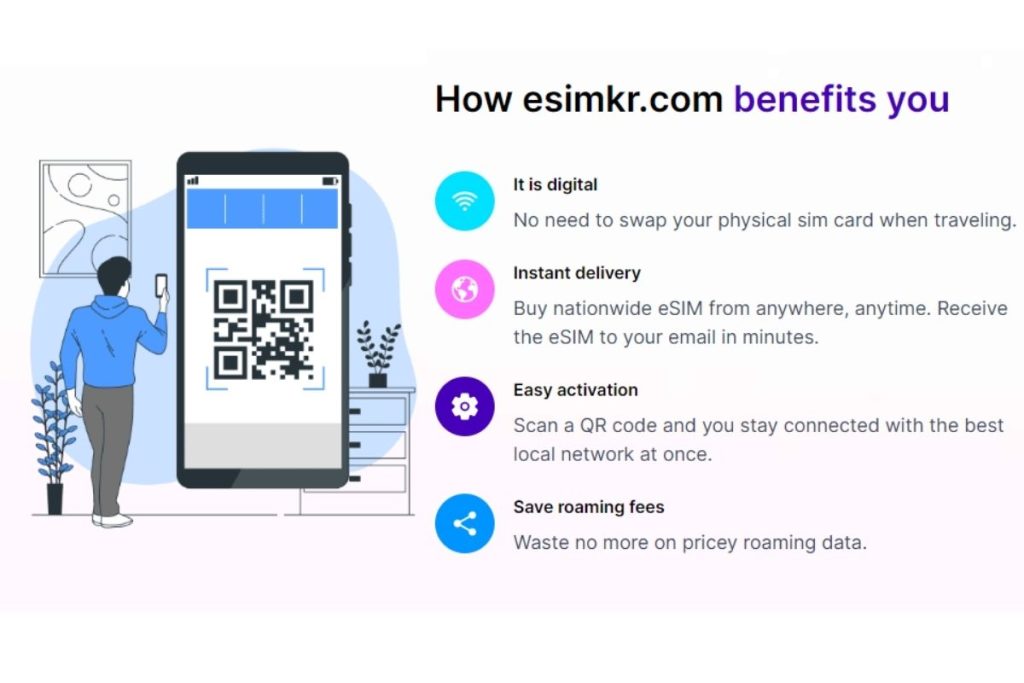 Sign up for an SK Telecom eSIM plan with esimkr.com. Choose a data plan that suits your needs
You will receive the SK Telecom eSIM profile from eSIM Korea via email or QR code.
Activate the eSIM on your phone. Once activated, it will automatically connect to the network. You can now start using your data.
 you're having trouble activating, our support team can help troubleshoo
/4t via live chat on WhatsApp available in many languages for quick resolution.
VII. How to Activate SK Telecom SIM Card/eSIM in Korea?
1. How to Use SK Telecom SIM Card in Korea?
Activating your SK Telecom nano-SIM is straightforward:
Unlock your phone if required by your home network
Insert the SK Telecom SIM and restart your phone
It will auto-configure and you'll see the SK Telecom carrier name displayed
Open internet or make a call to validate its working
Sometimes you may need to manually select the SK Telecom SIM if your phone has dual SIM slots. The prepaid balance and expiry is also pre-activated.
2. How to Activate SK Telecom eSIM?
To set up SK Telecom eSIM on your phone:
Order the SKT eSIM plan online and receive the activation details
Go into Settings > Cellular > Add Cellular Plan on iPhone or SIM Card Manager on Android
Enter the eSIM details and QR code provided
Follow prompts to download and install the eSIM profile
You'll see SK Telecom added in your carrier list once active
Reboot phone and use eSIM like a regular nano-SIM
It only takes a few minutes to complete eSIM activation using the digital QR code.
VIII. Useful USSD Codes for SK Telecom SIM Card/eSIM
SK Telecom uses USSD codes for checking balances and other self-care functions:
*126# – Check remaining minutes, text and data balance
*123*PhoneNumber# – Forward calls to another number
*159# – Activate conditional call forwarding
*135# – Check your own phone number
*129*9# – Disable voicemail
Enter these USSD codes directly in your phone dial pad. Press call/send button to execute the code.
IX. How to Top-up SK Telecom SIM Card/eSIM
When your prepaid credit runs low, you can easily top-up the SIM through:
Convenience stores like CU, 7-Eleven – Pay cash for top-up voucher
SK Telecom app – Register your SIM, add credit using international card
Online top-up sites – Use Travelsimtopup or KoreaWifiTopup sites
Customer service – Call 114 from SKT SIM to top-up via an agent
Top-ups come in denominations like KRW 10,000 or KRW 30,000. Enter the recharge PIN to add value instantly.
It's recommended to top-up before your balance expires to retain your number.
X. FAQs about SK Telecom
What ID do I need to buy SK Telecom SIM cards?
A passport is required for purchasing and registering any SK Telecom SIM card or eSIM, along with a passport photo.
Can I use SK Telecom SIM cards in another Korean city?
Yes, SK Telecom SIM cards work nationwide across all Korean cities and regions. There are no city-specific SIMs.
How to check data usage on my SK Telecom SIM cards?
You can check your remaining data balance by dialing *126# code. You can also monitor data usage in the SKT app if you register your SIM.
What happens when my SKT prepaid plan expires?
Once expired, you will no longer be able to use mobile data or make calls. You can extend the validity by topping up your SIM before expiry.
XI. Final Words
SK Telecom offers robust connectivity on Korea's top-rated mobile network. Their prepaid SIM card and eSIM plans provide an affordable and convenient way for tourists to stay online across Korea.
With extensive coverage even in remote areas, ultra-fast 5G speeds in cities, and easy activation on arrival, SK Telecom ticks all boxes. Grab a SIM or eSIM from the leading Korean carrier for your upcoming travels!