Currently, South Korea possesses one of the leading mobile telecommunications markets worldwide. It is challenging to select the right plan and service provider in Korea given the number of operators offering the options.
This guide will present the major mobile operators in the country and also tips to consider when choosing the best, a detailed comparison and recommendations as well as the FAQs. In Korea, this article will guide you to choose the good operator whether you are the local resident or visitor.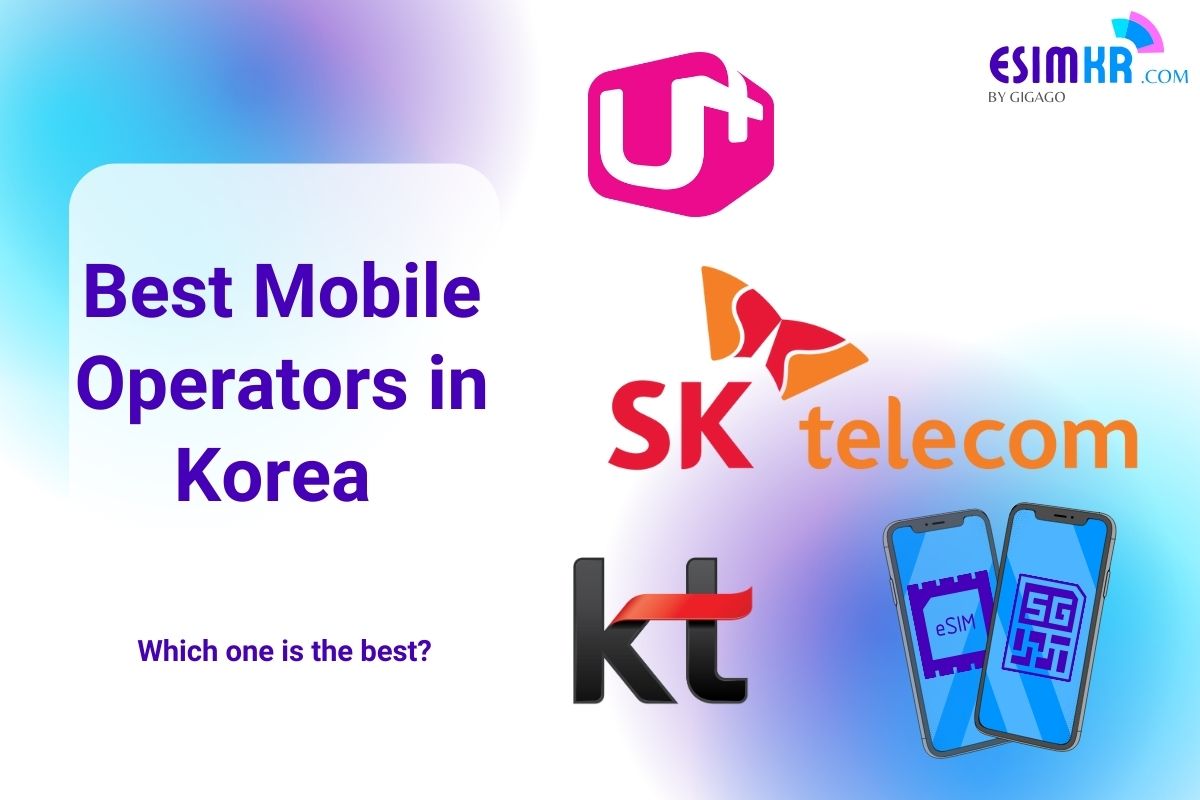 Table of Contents
I. South Korea Mobile Operators at a Glance
Korea has both major mobile network operators as well as smaller mobile virtual network operators (MVNOs). Let's take a look at the main players:
The three major mobile operators in South Korea are:
| | | | | |
| --- | --- | --- | --- | --- |
| Company | Ownership | Year Established | Subscribers in Korea | Mobile Services |
| SKT | SK Group | 1984 | Approximately 29.9 million subscribers | CDMA, WCDMA and LTE technologies |
| KT | The government's National Pension Service owns 12.19% shares and is the largest shareholder | 1981 | Approximately 30.9 percent of mobile phone service subscribers in South Korea used services provided by KT Corporation | CDMA, WCDMA and LTE technologies |
| LG U+ | LG Corporation owns 37.66% of the shares | 1996 | 4.62 million 5G subscribers | CDMA, WCDMA and LTE technologies |
These three traditional operators have nationwide coverage and provide voice, messaging, and mobile data services across 2G, 3G, 4G LTE, and 5G networks. They operate their own infrastructure and were the first to roll out 5G in Korea.
In addition to the big three, there are also some MVNOs in Korea that provide mobile services by renting network capacity from the major operators:
Some MVNOs have been around for ages, like Annex Telecom and Evergreen Mobile. But new startups keep popping up too, like the banking MVNO LiivM. Or MVNOs will get purchased, like how T-broad was bought by SK Telecom.
While MVNOs offer cheaper rates, their coverage is dependent on the network operators and limited compared to the major carriers. They are a good option though for voice calls, texting and basic data usage.
II. Choosing the Best South Korea Mobile Operator
Coverage – Check coverage maps to see which operators have the best nationwide 4G LTE and 5G reach for your usage. KT and SK Telecom currently have the most extensive networks.
Data speeds – If you stream a lot or tether your phone, download and upload data speeds will be important. KT and SK Telecom tend to get the fastest speeds based on OpenSignal tests.
International roaming – If you travel abroad frequently, some operators offer better international roaming packages. KT has partnerships worldwide.
English support – As a foreigner, English language support can be helpful. KT and LG Uplus are known for better English services.
Plans and pricing – Compare monthly or prepaid plan rates and data amounts across the operators. MVNOs tend to offer cheaper plans with limitations.
Phone deals and bonuses – Look for promotions like free gifts or discounts that come with selecting a certain carrier.
Additional perks – Some providers include extra benefits like mobile TV, free wifi hotspots, or special partner deals.
III. Best South Korea Mobile Operators – Detailed Comparison
Let's take an in-depth look at how the major mobile operators in Korea compare across some key metrics: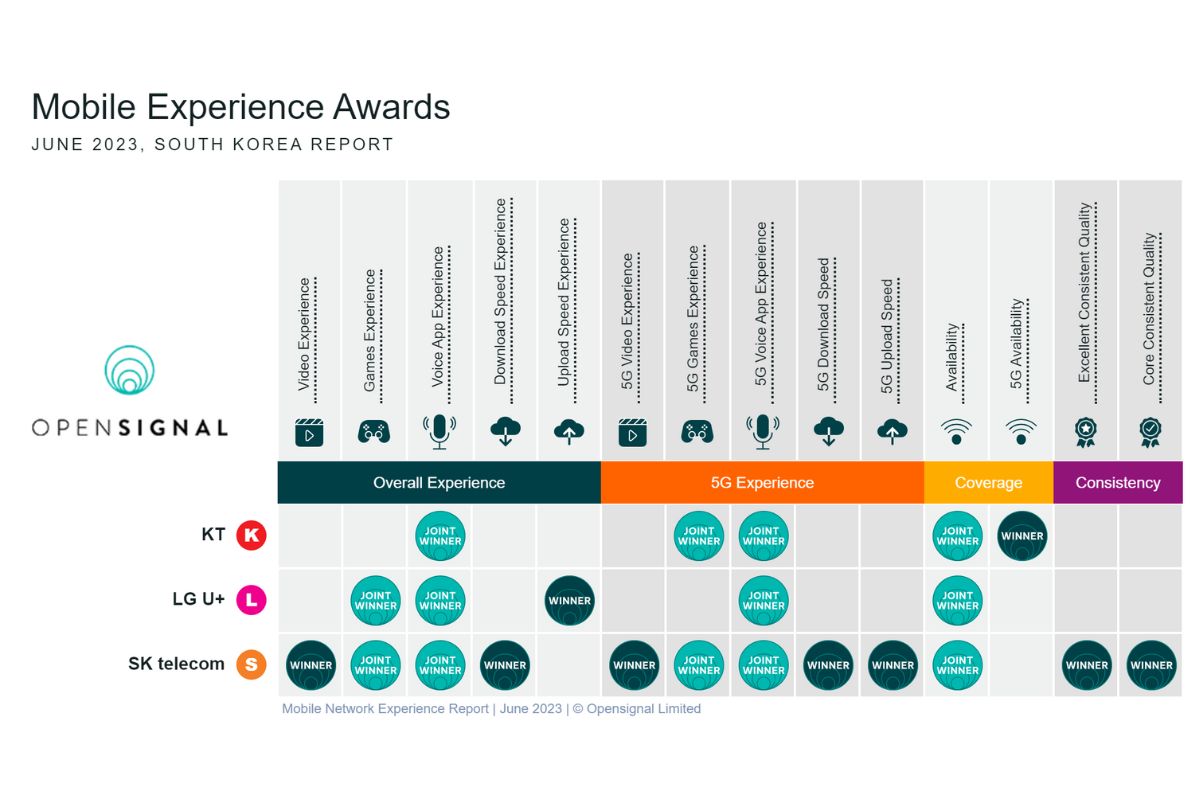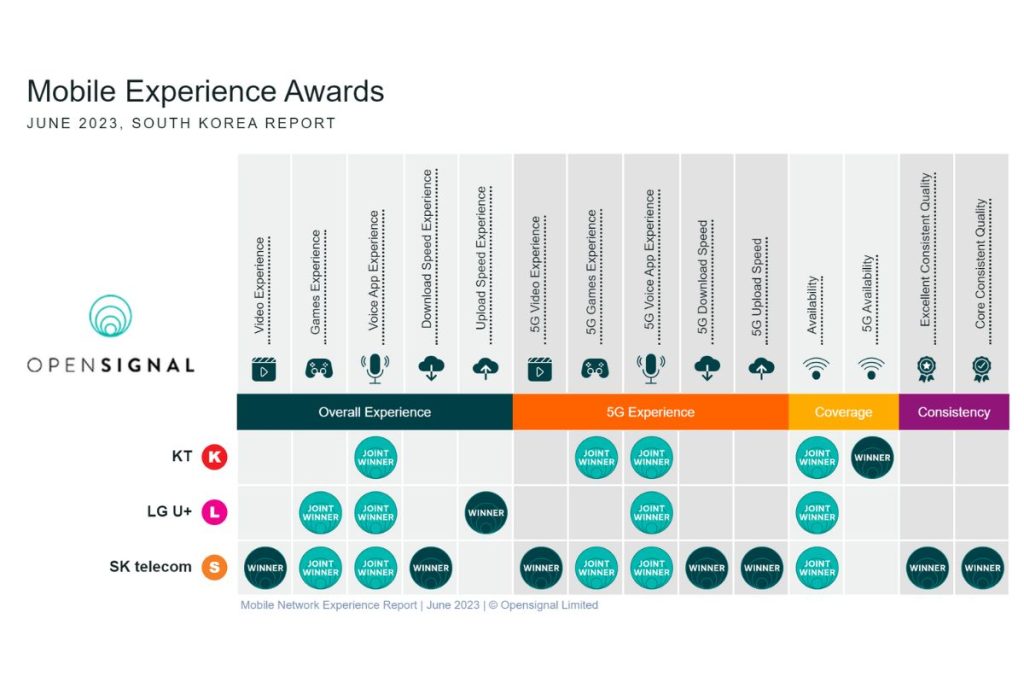 1. Network Coverage and Speeds
All the major carriers here – SK Telecom, KT, and LG U+ – provide excellent service coverage across the country. They've worked hard to build out their 4G and 5G networks so pretty much anyone can get a strong signal whether in big cities or smaller towns.
When it comes to speeds, SK Telecom has been leading the pack according to recent reports. Their customers get average download speeds over 130 Mbps, which is seriously quick! KT comes in a close second around 105 Mbps too. Both carriers offer mind-blowing 5G speeds over 1 Gbps in awesome places like Seoul.
LG U+ isn't too far behind KT for average speeds. They also get high marks for keeping users connected to high-speed networks almost all the time – a solid 99.7% of the time to be exact. I'm sure their subscribers really appreciate such reliable fast service.
Rural coverage is where SK Telecom has a tiny edge over the others. But really, calls and data will zip along smoothly no matter which provider you choose. And all three networks are constantly expanding and upgrading to keep South Korea at the forefront of mobile technology globally.
Overall, customers are spoiled for choice here with such robust, speedy networks from SK Telecom, KT and LG U+. You really can't go wrong with any of them.
2. Plan Options and Pricing
The big three operators offer both postpaid and prepaid options. KT has its My Plan, SK Telecom has T Plan, and LG Uplus UPlan for postpaid. MVNOs tend to offer cheaper prepaid SIM plans with limitations.
Postpaid plans allow you to finance and upgrade devices in monthly installments. The lowest cost postpaid plans start around 30,000 to 40,000 KRW per month for under 3GB of data. Most users opt for plans in the 50,000 to 70,000 KRW range with at least 5GB of data.
Unlimited data postpaid plans are available from the major operators too and cost around 80,000 to 100,000 KRW monthly. MVNO SIM cards can offer prepaid plans starting under 10,000 KRW but have slower speeds and restricted data.
3. International Roaming
For frequent travelers, KT has the most global roaming partners with free 2G data and voice services in over 193 countries. SK Telecom also includes some roaming benefits on postpaid plans. LG Uplus lags in this regard.
4. English Support Services
KT and LG Uplus are regarded as having better English language customer support compared to SK Telecom when it comes to stores, call centers and online. As an MVNO though, KT Mmobile has more limited English services.
5. Extras and Perks
The major carriers each try to incentivize subscribers with extra perks. KT offers special discounts, coupons, and KT Members loyalty rewards. SK Telecom provides T Membership with benefits and access to SK partner brands. LG Uplus has the U+Club program and also operates U+tv mobile TV.
IV. Where to Buy SIM Card from Korea Mobile Operators?
It's easy to get started with any Korea mobile operator. Here's a quick guide on where to purchase SIM cards: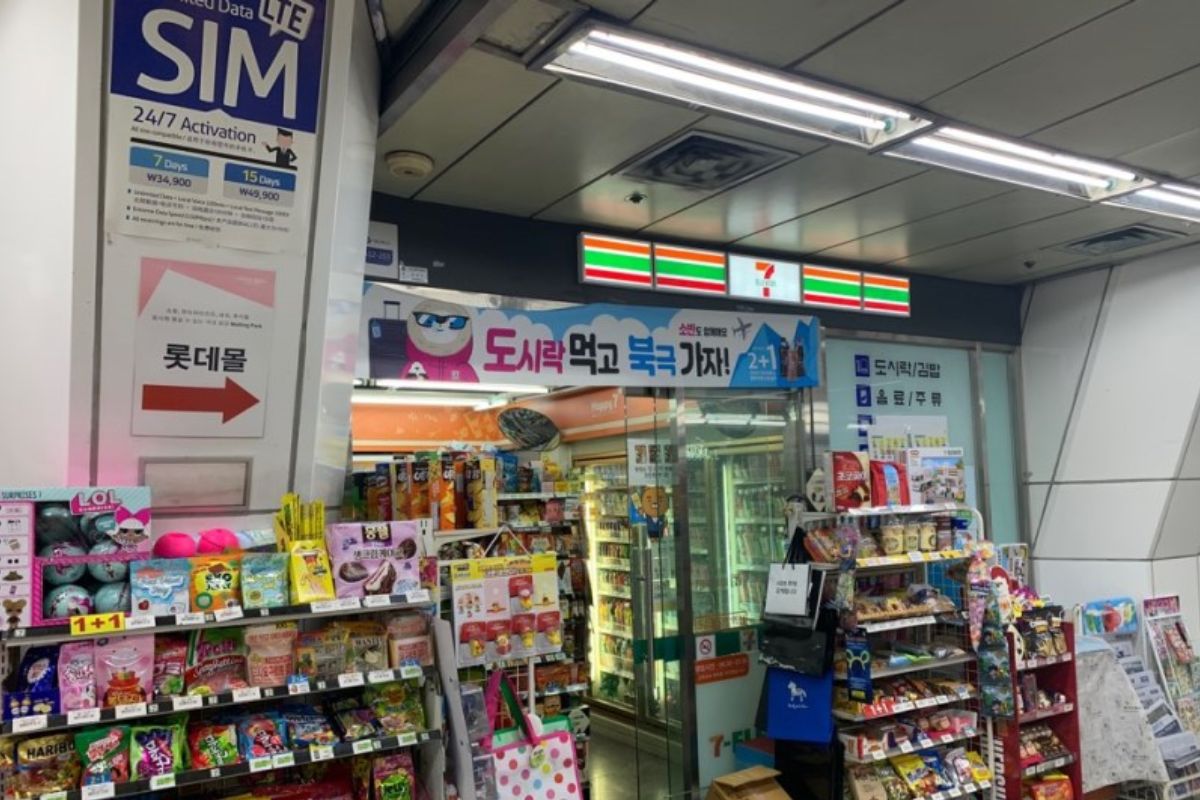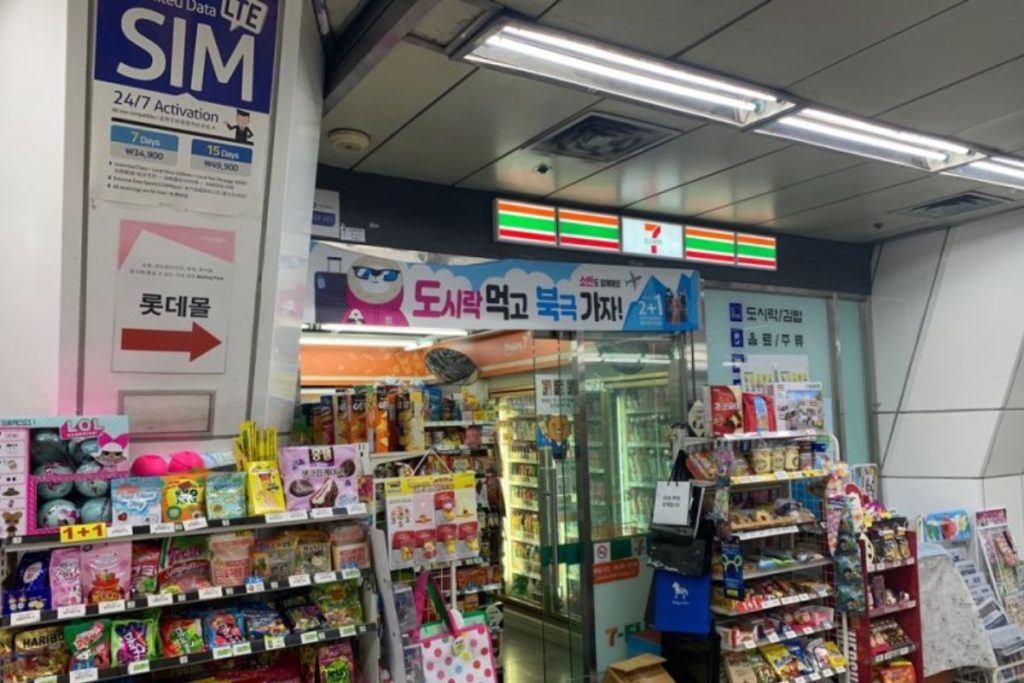 At Incheon Airport – KT, SK Telecom and LG Uplus all have booths and sell SIM cards in the arrivals area. MVNO cards can be found here too.
At mobile carrier retail stores – Visit outlet locations in cities around Korea to set up service and accounts in person. Bring your passport.
From electronics stores – Retailers like GS25 sell prepaid SIMs from major providers. Some offer delivery.
Through online signup – Operators let you order SIM cards for delivery and register accounts completely online.
With rental SIMs – Companies like KoreaSimRental provide short-term tourist SIM cards, delivered or picked up at the airport.
For the major operators, the SIM card itself is free but you have to pay the plan fee upfront. Prices range from around 11,000 KRW for an MVNO prepaid SIM to 50,000+ KRW for postpaid plan SIMs.
V. Do Korea Mobile Operators Offer eSIM?
For devices with eSIM capabilities, some Korean carriers do provide electronic SIMs as an alternative to plastic SIM cards:
SK Telecom – Launched eSIM support in late 2020. Available on compatible Samsung phones and tablets. Must activate in-store.
KT – Offers eSIM on select Samsung, Apple and Google devices. Can be set up online or in-store.
LG Uplus – Provides eSIM for iPhone users. Activate at LG Uplus stores. Not available online yet.
MVNOs – Currently no Korean MVNOs seem to support eSIM activation and usage.
So eSIM is limited to higher-end smartphones and certain operators for now. But availability is expanding, making eSIM a more convenient option for handling Korean mobile plans going forward.
Traveling to Korea doesn't have to mean dealing with inconvenient SIM cards anymore. With esimkr.com by GIGAGO, you can access high-speed cellular data without changing physical SIM cards.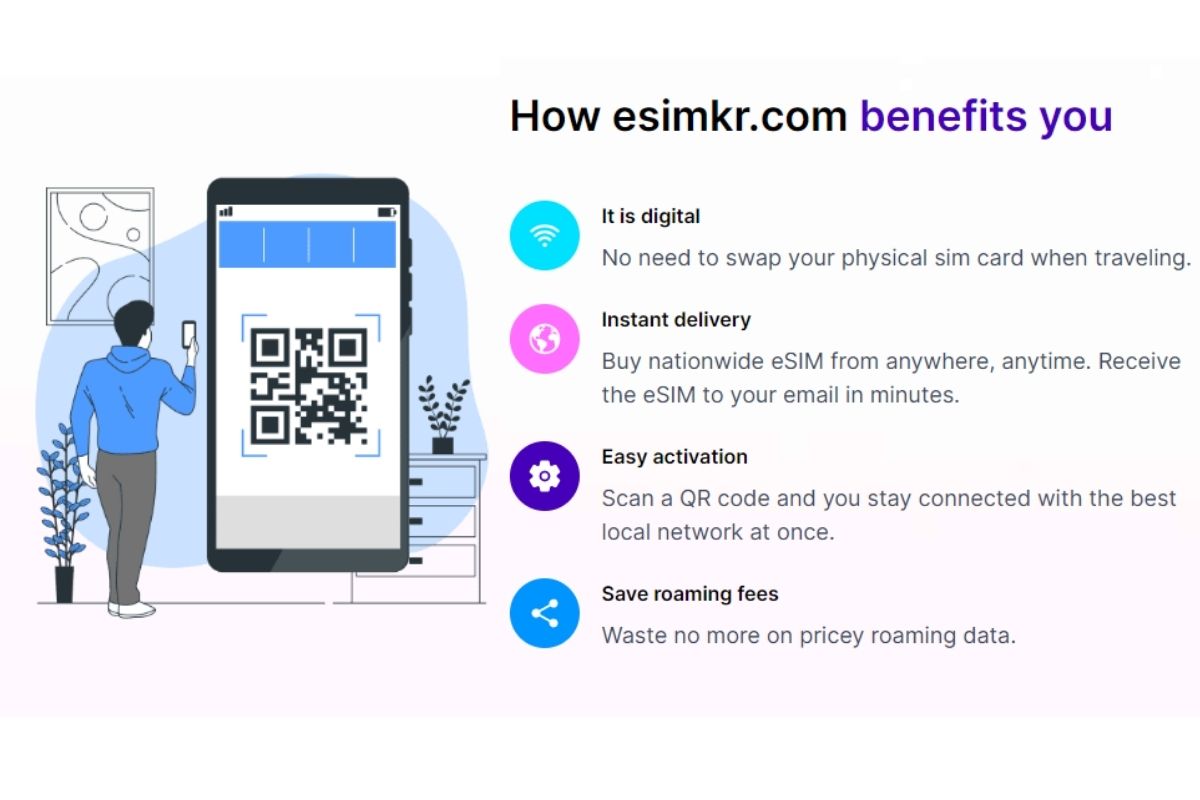 Everything You Need, All in One Place
Our prepaid eSIM plans provide everything required for Internet access directly from our website. Simply purchase a plan, activate with one scan, and you're connected to Korea's best cellular networks.
No Waiting Around
Immediate activation means no wasted time at airports. Your eSIM is delivered digitally so you can start using data right away rather than searching for SIM stores.
Flexible Usage
Varying plan durations from 3 to 30 days starting from $5.90 to $11 let you match data to your stay. Upgrade, switch, or cancel at any time through our online portal from anywhere.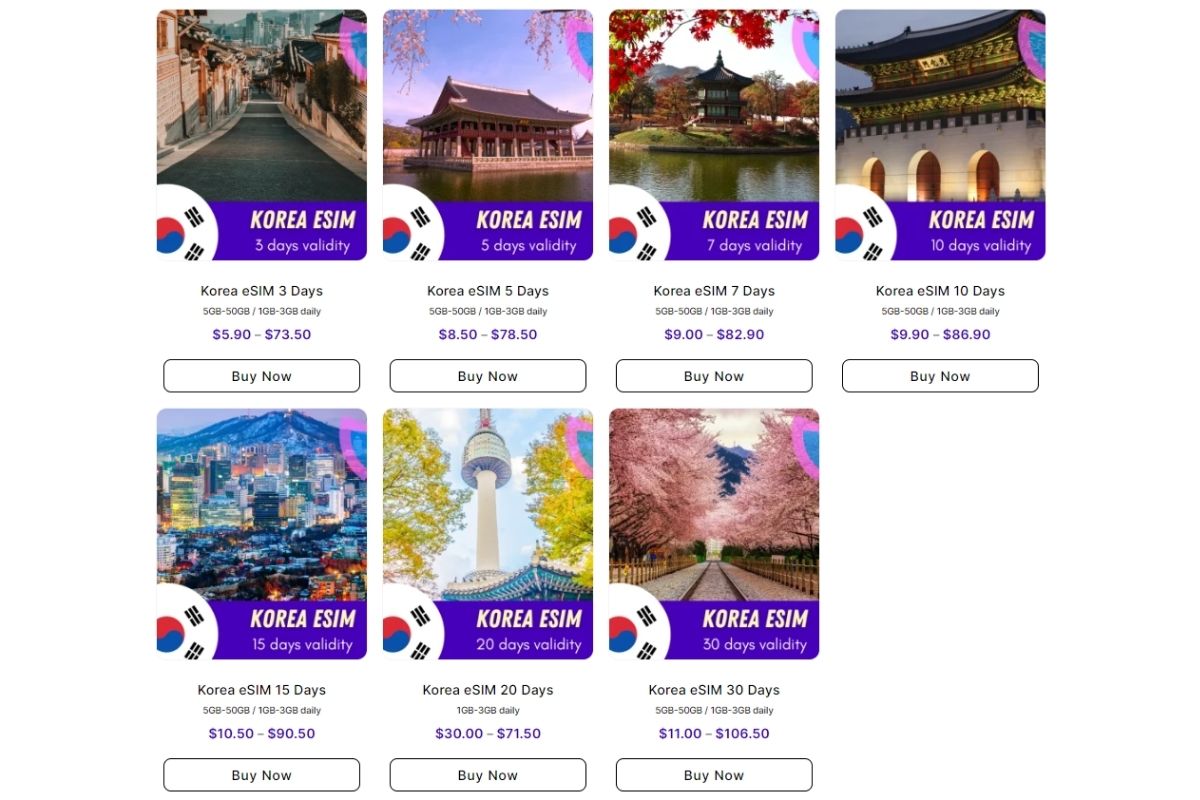 Worry-Free Roaming
Leave bulk roaming charges behind. Our eSIMs use Korea's largest SKT network like a local SIM while traveling throughout the country.
Robust Support
Live chat and email assistance is available 24/7 to answer questions and resolve issues at a moment's notice from esimkr.com.
So say goodbye to messy SIM logistics for your Korea trip. Trust esimkr.com to deliver a premium eSIM experience that takes the headache out of cellular connectivity while traveling. Start enjoying easy mobile access with our high-speed prepaid eSIM plans today.
VI. FAQs
Which Korea mobile operator has the best coverage?
KT and SK Telecom generally have the widest overall 4G LTE and 5G coverage nationally based on network testing. LG Uplus coverage is solid too though.
Which Korean mobile carrier has the fastest data speeds?
OpenSignal reports show KT and SK Telecom delivering the fastest average 4G and 5G download speeds. LG Uplus speeds are quick as well but often trail slightly behind.
Which Korea mobile operator is the cheapest?
The MVNO networks like KT Mmobile and SK Telecom Mmobile provide the most affordable prepaid SIM plans, but have limited data and slower speeds. Postpaid, LG Uplus tends to offer competitive rates.
Which South Korea mobile operator is best for foreigners?
KT and LG Uplus get good marks for English language support services, which can help non-Korean foreigners use and manage accounts more easily.
Can you use a Korean SIM card internationally?
Some operators like KT allow free basic data roaming in many countries. But by default, Korean SIM cards have high roaming charges abroad unless you select a roaming package.
VII. Final Words
While all three major operators in Korea deliver premium nationwide service, KT appears to come out on top based on metrics like coverage, speeds, roaming reach and English support. But ultimately the best Korean mobile operator for you will depend on your specific usage needs and budget. MVNOs provide the most budget-friendly options if you just need the basics.
For most foreign visitors and expats living in Korea short or long-term, going with KT or LG Uplus is recommended, especially if English assistance is preferred. With this guide covering all the key details, you should now be equipped to select the right mobile operator in Korea to stay conveniently connected on-the-go.