LG U+ is one of the top three mobile operators in South Korea, alongside SK Telecom and KT Corporation. As a tourist visiting Korea, getting a local LG U+ SIM card or eSIM can help you stay connected affordably during your trip. In this comprehensive guide, we'll provide key information about using LG U+ SIM cards in Korea as a foreigner, including network coverage, eSIM availability, where to buy, activation, rates, top-up, and more.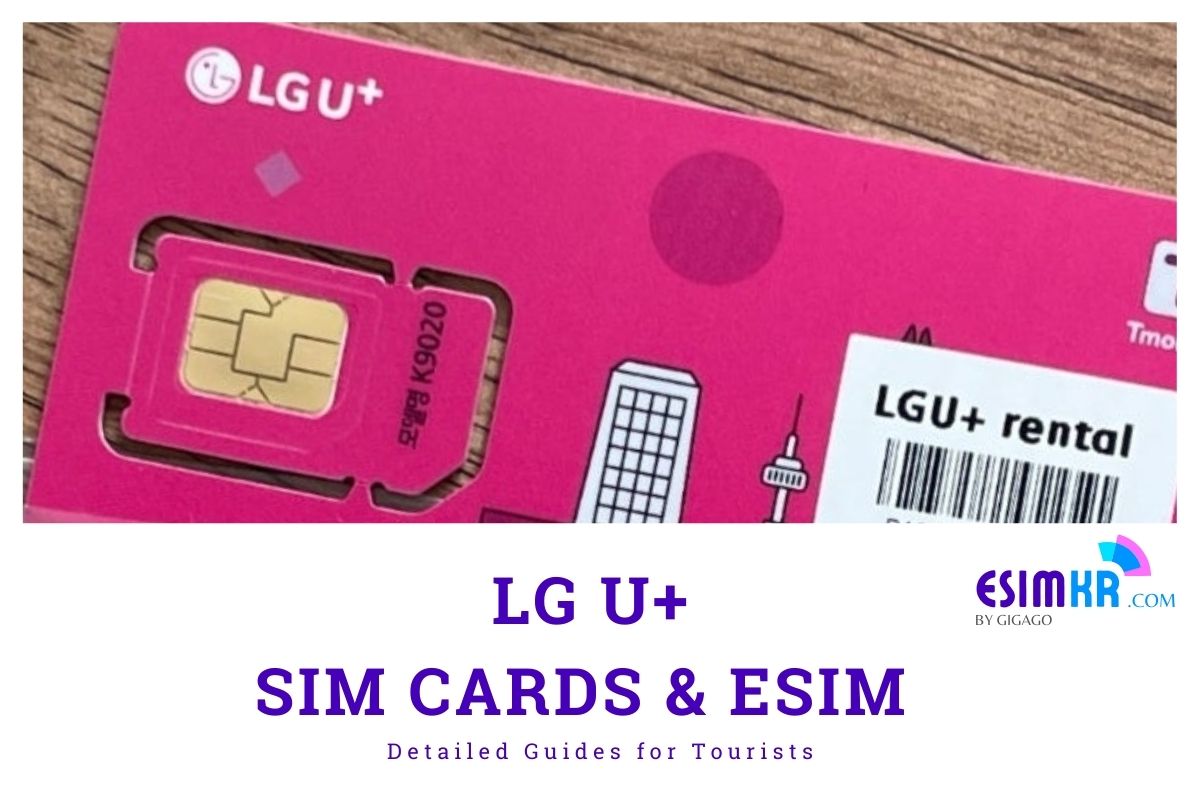 Table of Contents
I. Quick Facts about LG U+
LG Uplus got its start in 2010 through the coming together of LG Telecom and LG Dacom. Since then, under their full name LG Uplus Corp, they've brought people closer in new and innovative ways.
Offering mobile, internet, TV and other connectivity options, LG Uplus proudly serves over 14 million subscribers across South Korea. Their extensive 4G LTE network ensures fast, reliable service is within reach of nearly every community.
Through their wide network of over 1,300 accessible stores and partners, LG Uplus provides helpful guidance to customers wherever life takes them. While one of Korea's three major carriers, they demonstrate steady growth with a focus on strong coverage, especially in busy urban hubs.
For visitors exploring Korea's wonders, LG Uplus helps keep travelers feeling connected with loved ones back home. Their dedication to technological progress throughout the country sets the stage for new adventures and experiences to be shared by all.
II. Why LG U+ When You're Exploring Korea – Coverage and Speed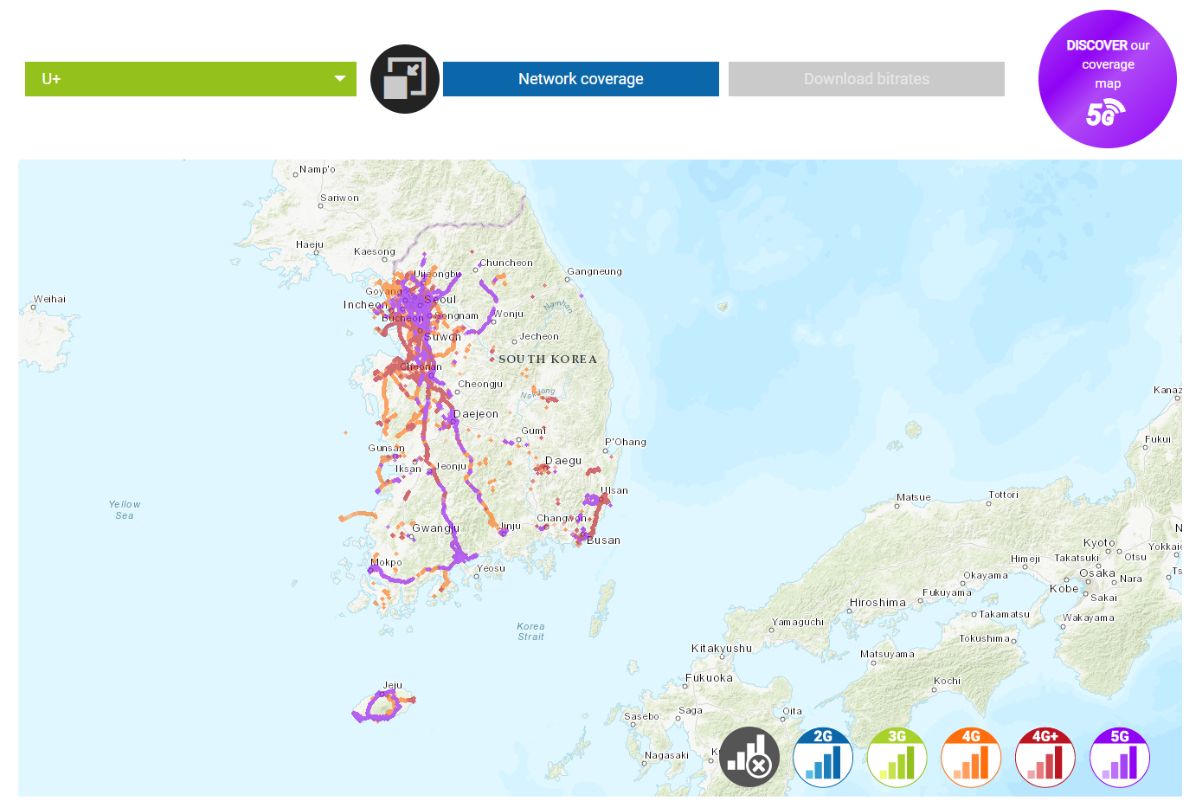 1. LG U+ Network Coverage in Korea
LG U+ has nationwide 4G LTE coverage reaching over 99% of the population in Korea. Speeds are fastest in big cities like Seoul and Busan where LG U+ averages around 90Mbps for downloads based on OpenSignal data. Coverage can be more limited in remote areas and underground metro stations. Overall, LG U+ provides solid coverage for tourists focused on hitting top destinations.
2. LG U+ Speed
In major cities, LG U+ offers impressively fast average download speeds of 90Mbps and upload speeds around 14Mbps on 4G LTE. This is on par with KT and slightly faster than SKT based on OpenSignal results. For streaming, gaming, videos and more, LG U+ delivers excellent connectivity especially in populated areas. Speeds may be slower in countryside areas.
III. LG U+ Connectivity Options for Travelers to Korea
LG U+ offers both physical SIM cards and eSIM (digital SIM) options for tourists visiting Korea:
LG U+ SIM Card – Traditional plastic SIM card that must be physically inserted into your unlocked device. Available in prepaid Tourist SIMs.
LG U+ eSIM – Digital SIM profile that is activated virtually with a QR code. Preloaded eSIM data plans sold by select resellers.
As a foreigner, getting an LG U+ prepaid tourist SIM card or eSIM are your main options for hassle-free connectivity. Contract plans require long-term residence visas.
IV. Best LG U+ SIM Cards for Tourists & Cost
LG U+ offers affordable and convenient data SIM card plans for international travelers visiting South Korea. The SIM cards come with a variety of usage period options and prices. Additionally, voice call top-ups and per minute/text rates are provided.
| | | |
| --- | --- | --- |
| Usage Period | Price (USD) | Reservation Discount (USD) |
| 5 days (120 hours) | $22.67 | $21.34 |
| 7 days (168 hours) | $29.67 | $27.34 |
| 10 days (240 hours) | $32.23 | $29.67 |
| 15 days (360 hours) | $46.67 | $43.34 |
| 20 days (480 hours) | $50.23 | $46.67 |
| 30 days (720 hours) | $58.34 | $53.34 |
| 40 days (960 hours) | $83.34 | $76.67 |
| 60 days (1440 hours) | $121.67 | $110.00 |
All pricing information has been converted to US Dollars for ease of understanding. The LG U+ SIM cards provide a cost-effective solution for travelers seeking affordable cellular connectivity and transportation access during their visit to South Korea.
V. Does LG U+ Support eSIM in Korea?
Yes, LG U+ does offer eSIM support for devices with eSIM functionality like newer iPhones and Galaxys. However, prepaid eSIM service for tourists is not directly sold by LG U+.
Instead, you'll need to purchase a prepaid eSIM data plan from a third party vendor that supports LG U+ or other major mobile operators in Korea.
For those of you still considering using an eSIM, check out the upcoming section as we'll mention a hassle-free alternative to the LG U+ SIM option for travelers
VI. Where can You Buy an LG U+ SIM Cards?
As a tourist, the easiest places to buy an LG U+ SIM card are:
Directly from the LG U+ website. They offer data SIM cards and eSIM options.
At airport counters located near arrival halls. For example, Gimpo International Airport has a counter near Gate 1 on the 1st floor open 6:30am-11:00pm. Busan Gimhae Airport has a counter near Gate 2 on the 1st floor open 6:00am-10:00pm.
By making an online reservation and payment, then visiting an LG U+ Customer Center to complete the application form.
At directly owned LG U+, KT or SKT stores, which are usually large flagship branches.
Through an online reservation and payment on the LG U+ website, then visiting an LG U+ center to complete the application.
Notes:
Only country-unlocked phones can be used.
SIM cards cannot be refunded once received.
If the 3GB daily data is used up, unlimited data at up to 5Mbps speed can continue.
VII. How to Activate LG U+ SIM Cards in Korea?
For a LG U+ Tourist SIM, just follow these steps:
Insert SIM card into unlocked device
Turn on device and allow SIM to configure
Connect to the LG U+ 4G LTE network
SIM is ready to use! Data activated out of the box.
With the prepaid SIM, no registration or activation code is required. Just insert and go.
VIII. LG U+ Call & SMS Rates
LG U+ Tourist SIMs and eSIMs provide prepaid data, but usually do not include calling minutes and texts. If you need to make calls and send SMS, here are the rates:
lg u sms rate
| | |
| --- | --- |
| Call Type | Rates |
| Domestic outgoing calls | $0.0036/sec, $2.16/min |
| Texts | $0.045/SMS, $9.00/MMS |
| International outgoing calls | Depends on destination country |
| Incoming calls/texts | Free |
| Data | Unlimited |
Rates are reasonable but can add up. Use free apps like WhatsApp and FaceTime for calling/messaging to save costs. Or get a package with some minutes and texts included if needed.
IX. Useful USSD Codes for LG U+ SIM/eSIM
Here are some useful USSD codes to check your LG U+ prepaid balance and data usage:
*123# – Check SIM card number
*124# – Check remaining balance
*125# – Check data usage
*126# – Check call and text usage info
Dial the codes and press call/send to check your stats. Useful for keeping tabs on your prepaid credit.
X. How to Top-up LG U+ SIM/eSIM
When your LG U+ SIM/eSIM prepaid balance runs low, you can top-up or recharge using:
Credit/Debit Card – Recharge online using your card on provider website
Convenience Store – Buy prepaid top-up voucher and add to SIM balance
ATM – Withdraw cash at ATM and load it to SIM at store counter
Kiosk – Find self-serve kiosks at airports and public places
Online top-up is fastest while vouchers give you other options. Keep your LG U+ SIM active during your whole trip with easy recharging.
XI. Alternatives to LG U+ SIM Cards
1. Other Main Local Mobile Operators
SK Telecom: One of the largest mobile carriers in Korea along with KT. Known for its fast LTE speeds. Also offers 5G service.
KT: Another major carrier with nationwide 4G/LTE and 5G coverage. KT's network is generally reliable.
Olleh Mobile (SK Telecom subsidiary): Budget brand owned by SK Telecom. Offers slightly cheaper monthly plans than the parent company.
Tired of swapping SIM cards or paying sky-high roaming fees when traveling to Korea? Then our esimkr.com by GIGAGO service is the ideal solution.
With esimkr.com, activation is completely digital. Once purchased, they'll instantly email your eSIM profile. Then just scan the QR code with your phone's camera and the eSIM auto-configures.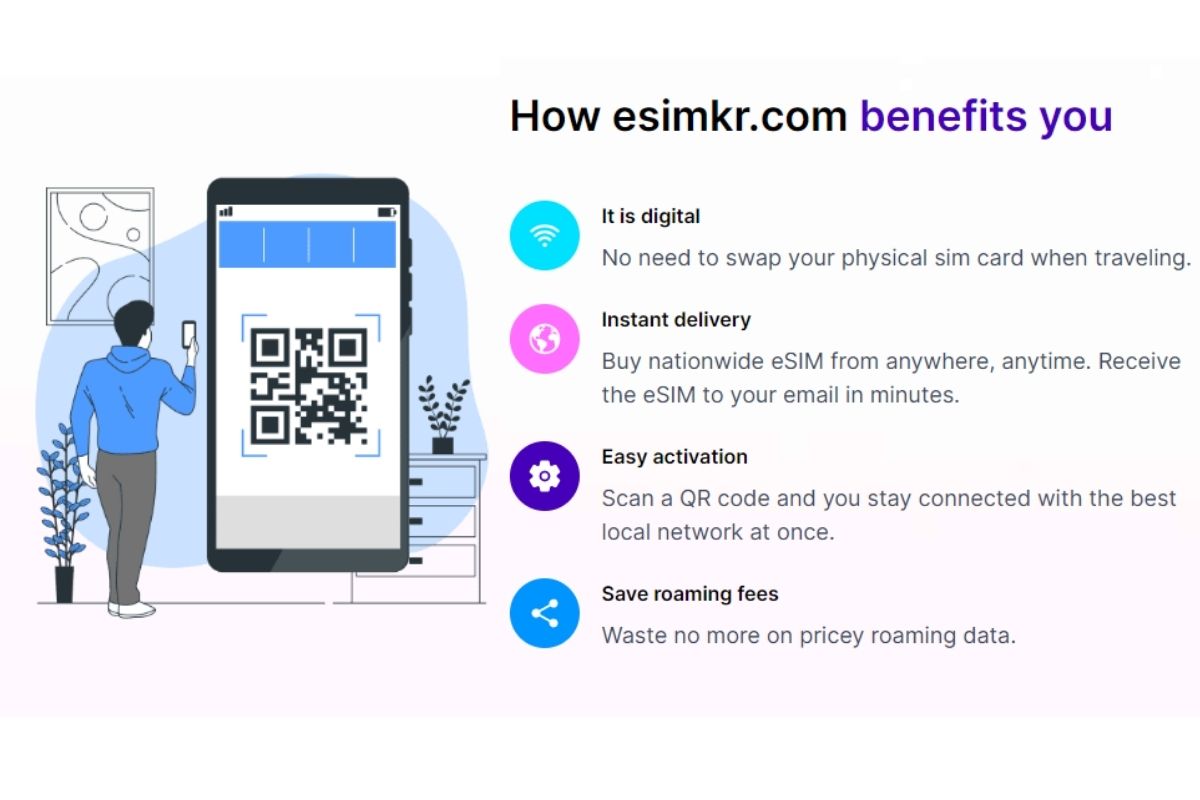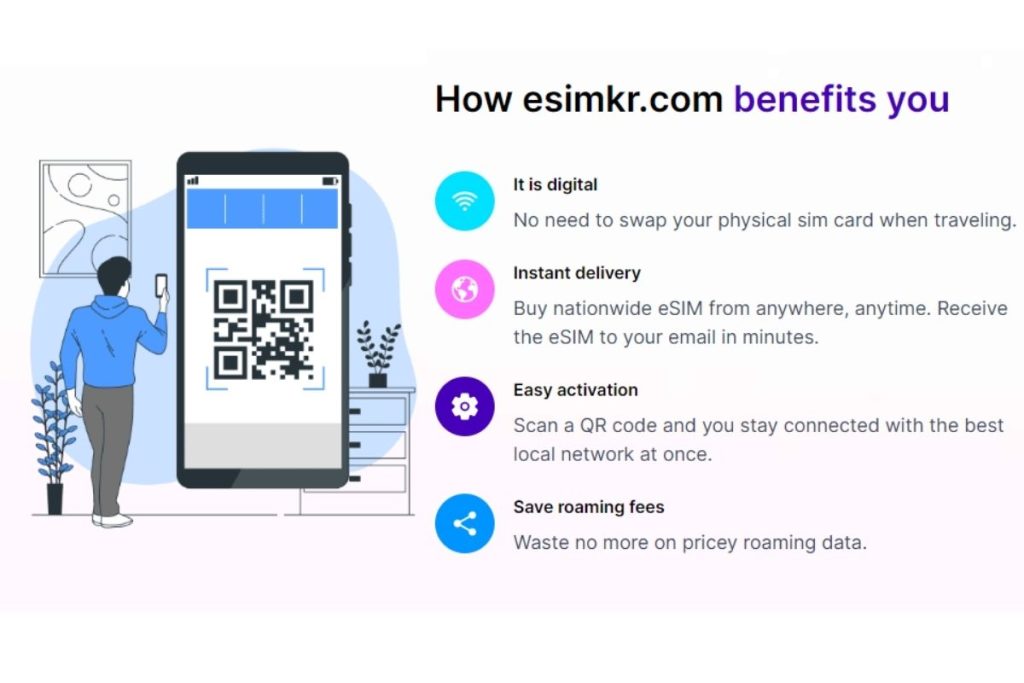 No need to wait at stores or fiddle with SIM slots – simply open the email and you're connected.
esimkr.com partners major Korean carrier SK Telecom, ensuring fast 4G/5G speeds nationwide on reliable networks.
Flexible eSIM plans from 3 days up to a month let you choose the right length for your Korea trip. Data ranges 1-20GB daily.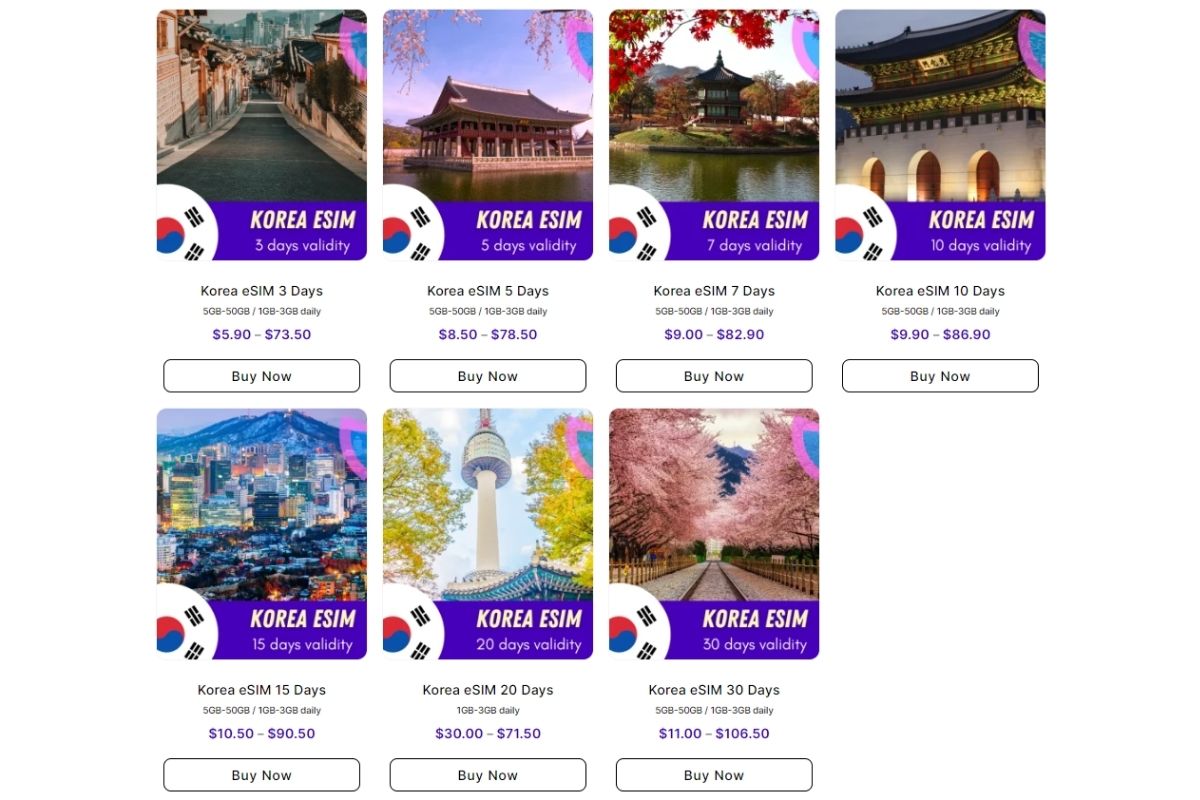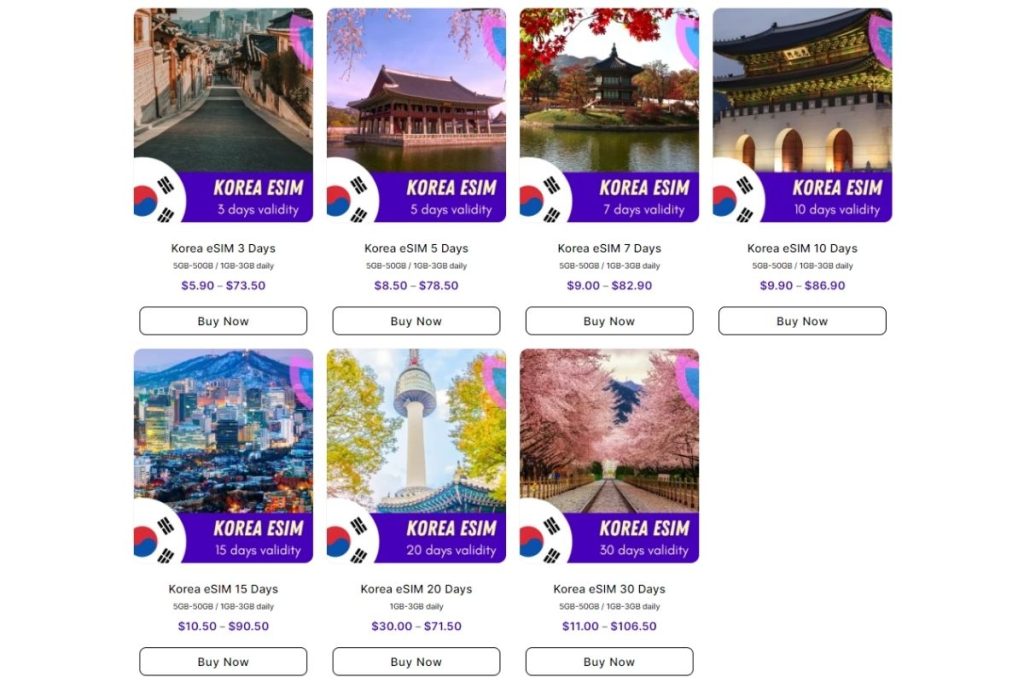 Detailed guides in multiple languages make eSIM installation on compatible devices a breeze. Round-the-clock support via live chat, email and WhatsApp aids activation issues.
Now travel to Korea without having to mess with SIM changes or pay exorbitant roaming – eSIM Korea makes staying online easy and affordable.
XII. FAQs about LG U+SIM Cards
Here are answers to some frequently asked questions about using LG U+ in Korea as a traveler:
Do I need to show ID to buy LG U+ SIM cards?
No, you can purchase LG U+ prepaid SIMs anonymously with no ID required as a foreigner.
Can I get a postpaid plan on LG U+?
No, postpaid contracts require long-term visas. Prepaid is the only tourist option.
How long does an LG U+ SIM cards last?
LG U+ SIMs and top-up vouchers are valid for 180 days from activation.
Can I use LG U+ SIM cards in other Asian countries?
No, LG U+ SIMs only provide service within South Korea.
How do I check data usage on my LG U+ SIM cards?
Dial *125# and press call to check consumed data amounts.
XIII. Final Words
LG U+ can provide reliable connectivity for tourists in South Korea with its solid LTE coverage, fast speeds and convenient prepaid SIM card options. Look for LG U+ SIMs at arrival airports, convenience stores or order online pre-trip. eSIMs are available too through third party eSIM providers. With an LG U+ SIM or eSIM, you'll stay conveniently connected for calling, navigation and surfing during your travels across Korea!