Traveling to South Korea and looking for the best SIM card options? KT Olleh is one of the top mobile carriers in the country, offering strong nationwide coverage, fast speeds, and affordable prepaid SIM cards for tourists.
In this guide, we'll provide an overview of KT Olleh SIM card offerings, including information on coverage, speed, connectivity options, prices, and more. We'll also cover whether KT Olleh supports eSIM for tourists, and where to buy their physical and eSIM products. Read on for details!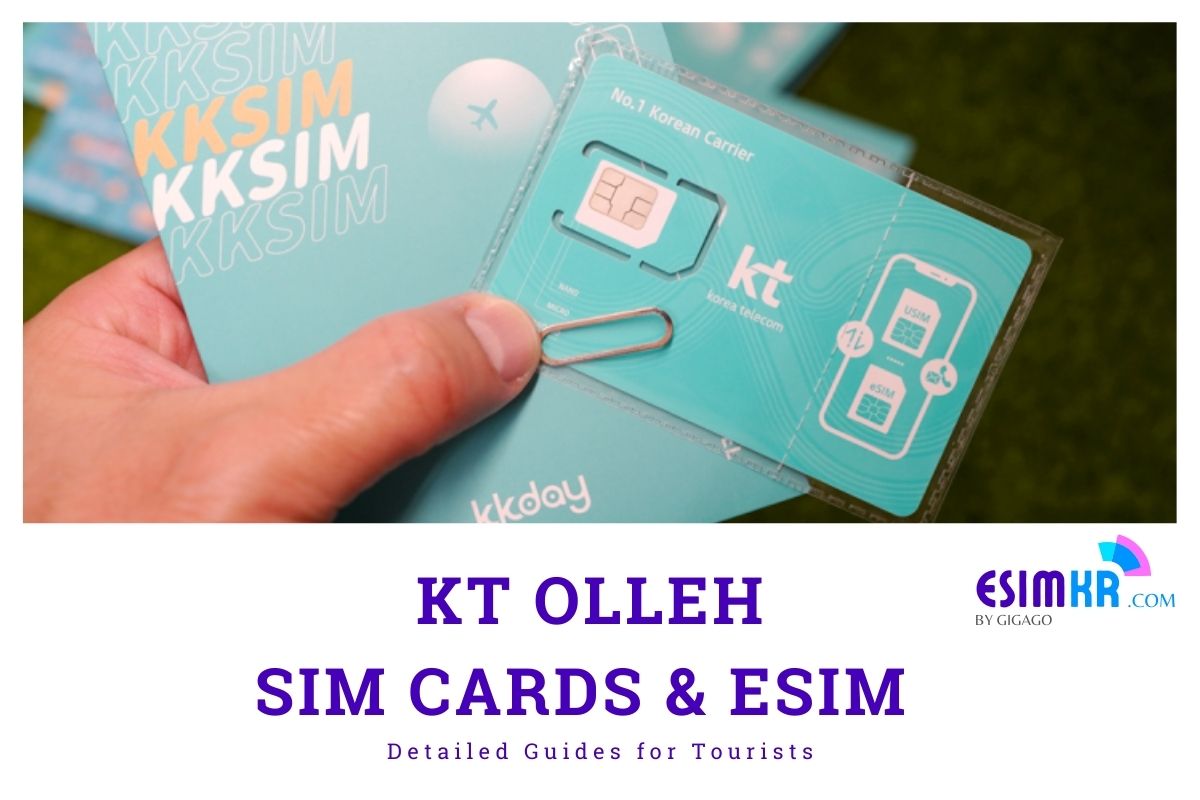 Table of Contents
I. Quick Facts about KT Olleh
KT Olleh has a long history of connecting South Koreans. Originally founded in 1981 by the government, it was the country's first major phone and internet provider.
Today, KT Olleh continues to bring people together through its various services. In addition to traditional landline phones, it offers fast and reliable broadband internet access. KT Olleh also provides mobile phones and IPTV.
With over 8 million mobile customers, KT Olleh has built an extensive network that reaches nearly all of South Korea's population. It operates one of the top mobile networks and has thousands of conveniently located retail locations across the country.
II. KT Olleh Coverage and Speed
1. KT Coverage in Korea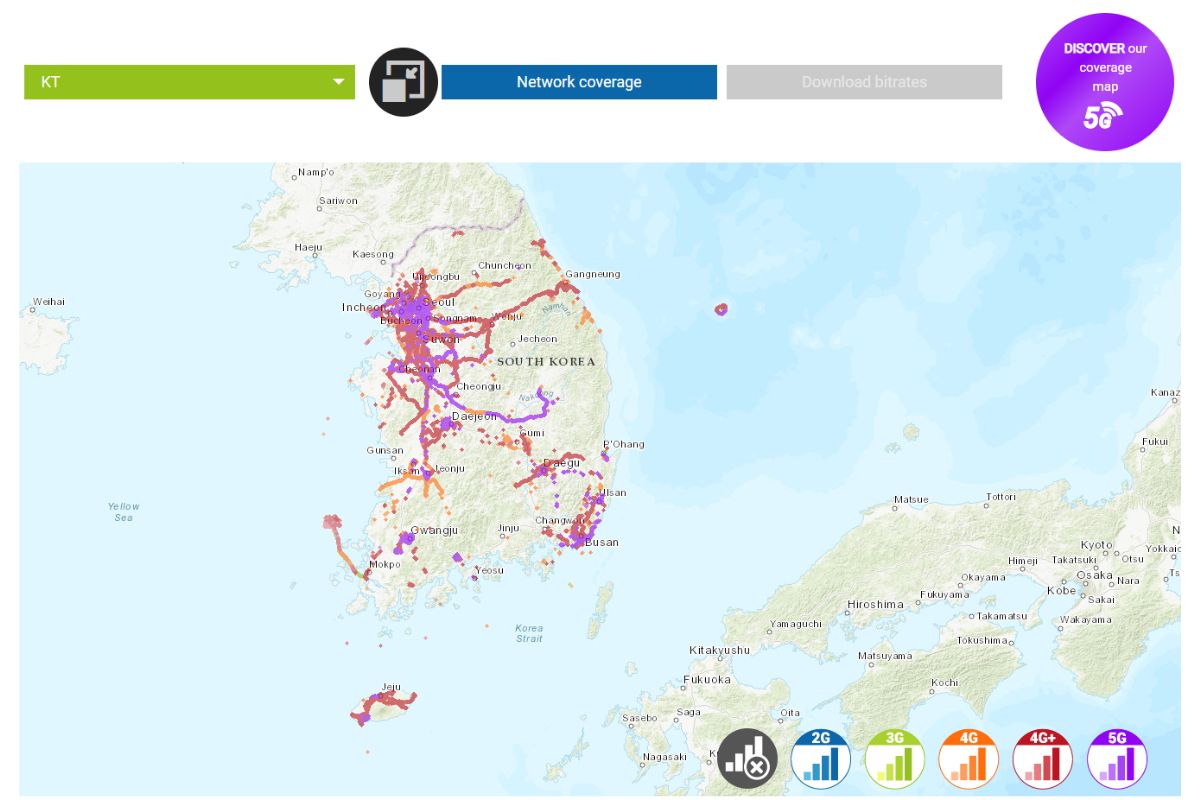 KT operates a nationwide 4G LTE network that covers 99.8% of the South Korean population. They have a very strong presence across all major cities and population centers.
Customers on KT's network can enjoy near-ubiquitous access to high-speed mobile service regardless of location in Korea. Coverage in major cities like Seoul and Busan is especially robust, allowing KT users to stream, game, and use apps without disruption.
KT also provides reliable coverage in rural areas, mountainous regions, and offshore islands so service is available wherever customers need it. This wide-ranging coverage enables KT to achieve top marks for metrics like Time on 4G/5G, ensuring customers benefit from high-speed connections.
2. KT Olleh Speed
In major cities like Seoul and Busan, KT advertises average 4G LTE download speeds between 50-200 Mbps and 5G speeds up to 1 Gbps.
Real-world mobile speeds on KT are consistently quick thanks to their advanced LTE network and network upgrades. Ookla Speedtest Intelligence data shows KT's median download speed was 132.75 Mbps and upload speed was 13.83 Mbps as of October 2022. This makes KT the fastest mobile network in South Korea.
Thus, KT Olleh can easily handle activities like HD video streaming, mobile gaming, video calls and more. Their speed and low-latency make them a great option for travelers who rely on connectivity.
III. KT Olleh Connectivity Options for Travelers
KT offers both prepaid SIM cards and eSIM for short-term connections targeted at tourists visiting Korea. Here are the main connectivity options:
Prepaid KT Olleh SIM Card for Tourists – Physical SIM card with prepaid data packs from 1 week to 90 days
KT Tourist eSIM – Digital eSIM for activation on eSIM-supported phones and tablets
Both options provide unlimited local calls and texting to mobile numbers in Korea. The main difference is whether you want the convenience of eSIM or a physical SIM card.
We'll cover more details on the specific packages, pricing, and where to buy the SIMs and eSIM later in the guide.
IV. Best KT Olleh SIM Cards for Tourists & Cost
KT Telecom offers a variety of prepaid SIM card plans for short-term and long-term travelers visiting Korea. The plans provide unlimited high-speed LTE data as well as free incoming calls and texts. Some key aspects of the plans include:
Plan Name
Duration
Price
Data
Calls
SMS
Prepaid SIM
72 hours (3 days)
18,000 KRW
Unlimited (after 3GB at 5Mbps speed)
Free incoming, outgoing charge additional fee
Outgoing charge additional fee
120 hours (5 days)
24,700 KRW
Unlimited (after 3GB at 5Mbps speed)
Free incoming, outgoing charge additional fee
Outgoing charge additional fee
240 hours (10 days)
34,600 KRW
Unlimited (after 3GB at 5Mbps speed)
Free incoming, outgoing charge additional fee
Outgoing charge additional fee
480 hours (20 days)
54,400 KRW
Unlimited (after 3GB at 5Mbps speed)
Free incoming, outgoing charge additional fee
Outgoing charge additional fee
720 hours (30 days)
64,300 KRW
Unlimited (after 3GB at 5Mbps speed)
Free incoming, outgoing charge additional fee
Outgoing charge additional fee
1,440 hours (60 days)
107,200 KRW
Unlimited (after 3GB at 5Mbps speed)
Free incoming, outgoing charge additional fee
Outgoing charge additional fee
2,160 hours (90 days)
143,000 KRW
Unlimited (after 3GB at 5Mbps speed)
Free incoming, outgoing charge additional fee
Outgoing charge additional fee
The plans offer unlimited data at LTE speed initially and after 3GB of daily data usage, the speed is throttled to 5Mbps. All plans include free incoming calls/SMS and charge additional fees for outgoing calls/SMS. 
The prepaid SIM cards allow visitors to stay connected throughout their trip to Korea with high-speed LTE data and free communications. Plans can be chosen to match trip length for hassle-free connectivity.
V. Does KT Olleh Support eSIM?
In addition to physical SIMs, KT launched tourist eSIM plans in 2021 targeted at eSIM-capable phones and tablets. There are two main options – a prepaid eSIM that allows calling/texting too, or a prepaid data eSIM for just internet.
The data-only eSIM is handy because you can buy it online or at the airport. It gives you unlimited data for however long you pick, from 1 day up to 3 months. Prices start around $6 for a day.
Once scanned, the eSIM is good for 30 days. No stress though – you can extend the expiration date further if needed. Just remember it only works in Korea, needs to be installed within 30 days of buying, and some other small rules.
VI. Where to Buy KT Olleh SIM Card and eSIM
You can pick up a KT Olleh Tourist SIM or activate their eSIM product through a few different channels:
1. Where to Buy KT Olleh SIM Cards for Korea
To get a KT Olleh physical prepaid SIM card, you can:
Purchase at airport kiosks – KT has SIM sales counters at Incheon Airport (ICN) and Gimpo Airport (GMP) arrivals halls. Look for the KT Olleh SIM card desk.
Buy at KT stores – Visit any official KT shop and purchase SIM card packs over the counter. Bring your passport.
Order for airport delivery – KT partners with Seoul Travel Easy SIM to deliver SIM cards to arrival airports. You can order online and collect at the airport.
Order for delivery in Korea – Resellers like Klook offer delivery of KT SIM cards to hotels and addresses across South Korea.
When purchasing at the airport or KT stores, you can also get assistance activating and setting up the SIM card.
2. Where to Buy KT Olleh eSIM
To activate KT Olleh's Tourist eSIM, you'll need:
An eSIM supported device
Temporary WiFi or roaming data to download eSIM
Valid passport for registration
Then you can purchase KT eSIM through:
KT eSIM app – Download the KT eSIM app on Google Play. Create an account and activate eSIM through the app.
WiFi at airport – Connect to free WiFi at ICN or GMP airport. Purchase eSIM through KT website and activate using passport and airport WiFi.
Roaming data – Use roaming data from your home SIM to download KT eSIM profile and activate account.
As eSIM is digital, there is no physical card. Activation is done on your phone after purchasing a data plan online.
VII. How to Activate KT Olleh SIM Card/eSIM
Activating your KT Olleh SIM or eSIM is straightforward. Here's what to do:
1. How to Activate KT Olleh Physical SIM Card
For the KT Olleh Tourist SIM:
Purchase SIM at airport, KT shop or delivery
Insert SIM into unlocked phone
Turn on phone and allow setup prompts
Select prefered language
Enter SIM PIN provided on SIM pack
Follow activation steps and register passport details
SIM card will activate automatically
If you need assistance, KT staff can help activate card when purchasing at airport or shop locations.
2. How to Activate KT Olleh eSIM
To activate KT Olleh's eSIM:
Connect to WiFi on arrival and open KT eSIM app
Create an account and select eSIM plan
Enter passport details for verification
Payment will be processed
Download eSIM profile when prompted
Scan QR code shown on phone to activate KT eSIM
Follow the in-app activation steps after installing the KT eSIM app from Google Play and purchasing a plan. The digital eSIM will be ready to use on your device.
VIII. KT Call & SMS Rates in Korea
KT tourist SIMs and eSIM come with some free calls and texts:
Free unlimited calls to KT Olleh mobile numbers
100 free SMS texts to any Korean mobile network
For calls to non-KT Ollehn mobiles, rates are ₩220 per 30 seconds. Outbound international calls start from ₩330 per minute.
Incoming calls are free. After using the free SMS allowance, additional domestic SMS cost ₩110 each.
IX. Useful USSD Codes for KT Olleh SIM Card/eSIM
Here are some useful USSD codes to check your KT Olleh SIM card status:
| | | |
| --- | --- | --- |
| Service | Price | Price (USD) |
| Local Calls | ₩4.4 per second | Local Calls |
| Local SMS | ₩110 per message | Local SMS |
| International Calls (excluding US, Japan, Taiwan, Hong Kong, Singapore) | ₩24.31 per second | International Calls (excluding US, Japan, Taiwan, Hong Kong, Singapore) |
| International Calls (for US, Japan, Taiwan, Hong Kong, Singapore) | ₩15.84 per second | International Calls (for US, Japan, Taiwan, Hong Kong, Singapore) |
| International SMS | ₩110 per message | International SMS |
You can also dial these codes directly from your phone dialer to check your prepaid SIM card usage and info.
X. How to Top Up KT Olleh SIM Card/eSIM
When your prepaid data or balance runs low, you can top up your KT Olleh SIM cards or eSIM to extend validity:
Top up at KT stores – Visit any KT shop and ask for a top-up. Pay cash and they'll add more data or validity. Bring your passport.
Online top-up – Register your SIM details on the KT tourist site. You can then recharge with international credit card.
Convenience stores – Many Korean convenience stores like CU, GS25, 7-Eleven sell standard KT recharge vouchers. Load voucher PIN into your account.
For eSIM, you'll need to top up through KT's online portal by registering your eSIM details and recharging usage.
XI. Alternatives to KT Olleh SIM Cards
1. Other Main Local Mobile Operators
KT Olleh provides excellent connectivity and speeds for tourists. But you may also consider:
SK Telecom – SKT has strong coverage and prepaid SIM/eSIM options for short trips too. Usually a bit more expensive than KT.
LG Uplus – The third major Korean carrier. LG U+ network can be slightly weaker outside major cities, but has affordable tourist SIMs.
Travelling to Korea but worried about having a reliable data connection? Leave your spare physical SIM card at home and go digital with an eSIM from esimkr.com by GIGAGO
As the #1 provider of eSIM plans for tourists to Korea, KoreaeSIM offers affordable daily and multi-day data packages that allow you to stay connected seamlessly throughout your entire trip.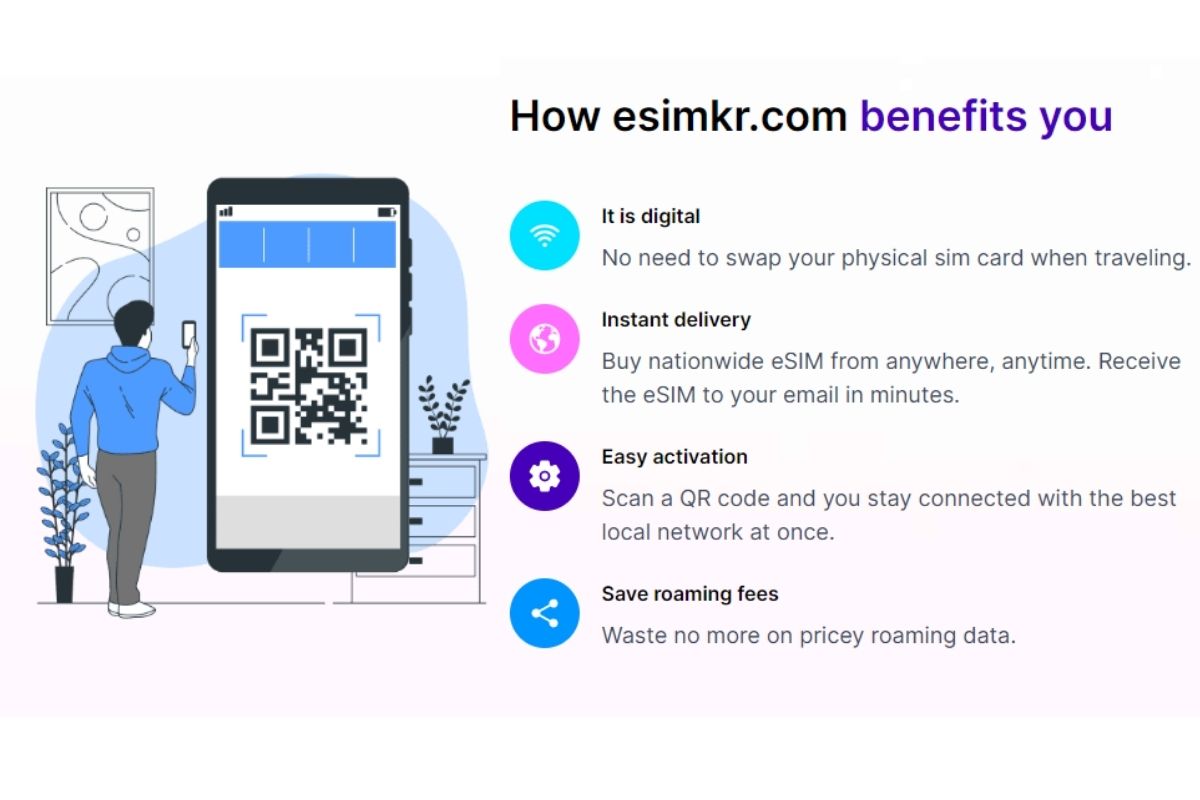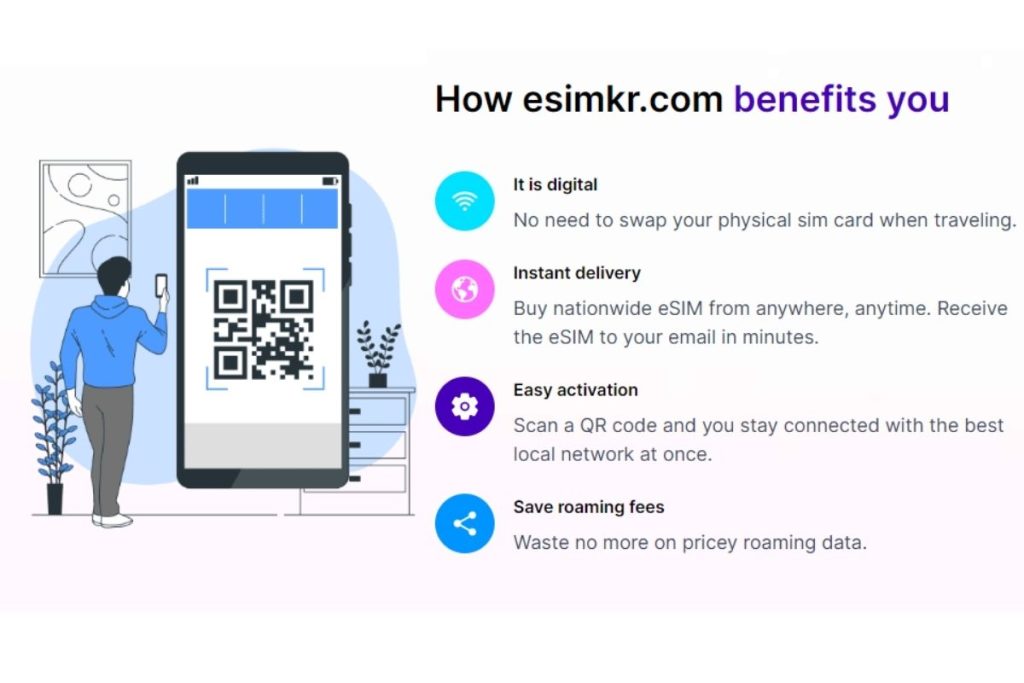 Once purchased, your eSIM will be delivered digitally – just scan the QR code using your eSIM compatible device and you'll be connected to Korea's best 4G and 5G networks instantly. No need to mess around with swapping out SIM cards.
esimkr.com plans are lightweight, cost-effective and most importantly, hassle free. With coverage island-wide on the biggest Korean networks, you'll get reliable high-speed data wherever your travels may take you.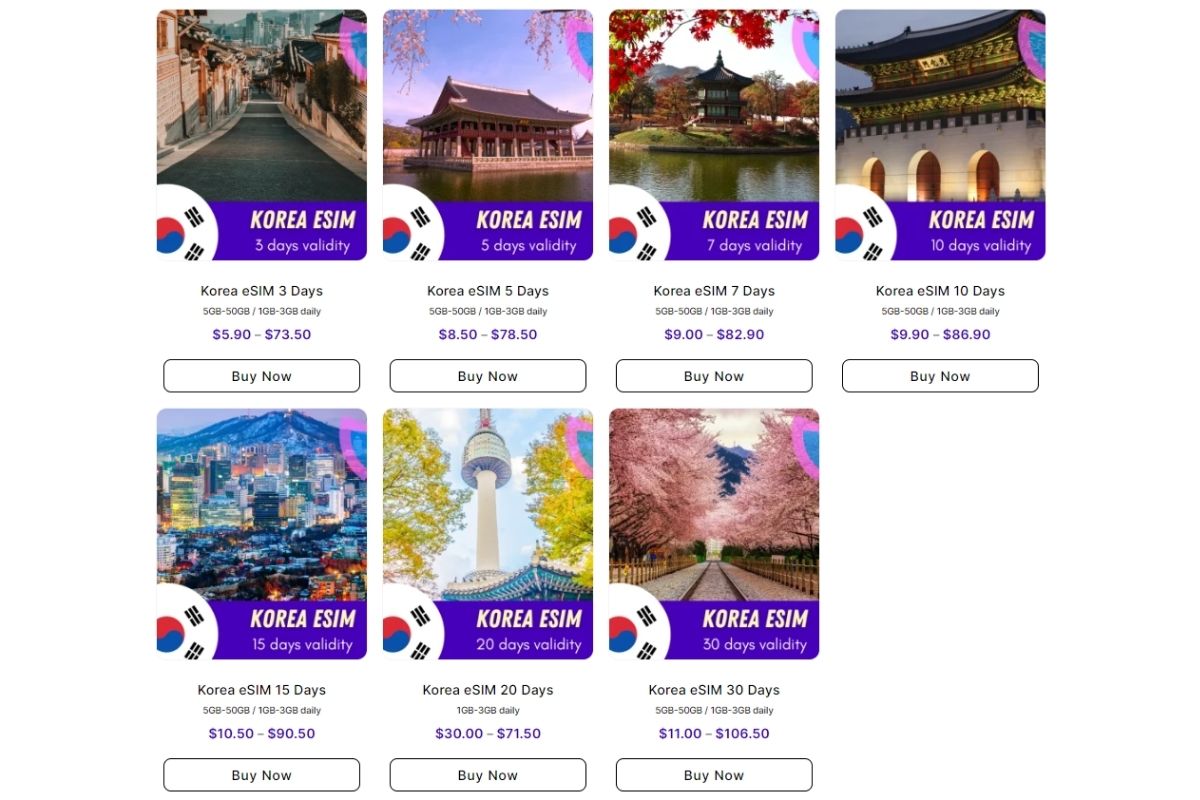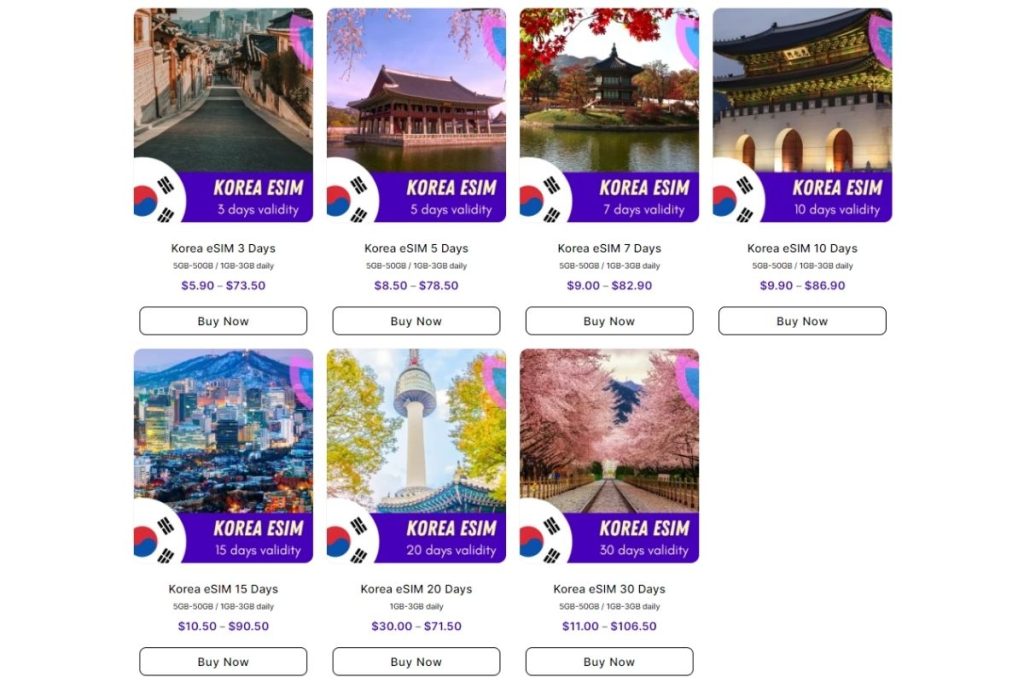 Beat roaming fees and bureaucracy at the airport by securing your eSIM plan from KoreaeSIM before you arrive. Plans start from just $5.90 for 3 days of coverage. You can also optimize your package with larger data allowances for extended trips.
esimkr.com is trusted by thousands of international travelers. Say goodbye to connectivity issues and overwhelmed airport counters. Get your Korea eSIM today and travel restriction free!
XII. FAQs about KT Olleh SIM Cards
Here are some common questions about using KT Olleh's tourist SIM and eSIM options:
Do I need to show ID or passport to buy KT SIM?
Yes, you need to provide passport details when purchasing KT tourist SIMs or eSIM, as mandated by Korean regulations.
Can I use KT SIM in other Asian countries?
No, KT SIM cards and eSIM will only work within South Korea. They do not offer roaming.
How fast is KT Olleh's 5G speed?
KT 5G network can reach peak download speeds up 1 Gbps in cities like Seoul. Typical speeds range from 200-500 Mbps down on 5G.
How long is KT Tourist SIM/eSIM valid for?
KT data packs are available for 7, 14, 30 or 90 days of validity. Make sure to opt for duration that covers your trip.
What happens when my high-speed data limit is reached?
Speeds will be throttled to 128 Kbps once you've used up the high-speed data allowance. You can top up data if needed.
XIII. Final Words
In summary, KT Olleh makes for an excellent connectivity option for short-term travelers with their prepaid SIM cards and eSIM plans.
Their tourist SIMs provide fast nationwide 4G LTE coverage, unlimited calls and texts to local mobiles, and convenient online recharging. And KT's eSIM support on iPhone and Samsung devices offers added flexibility.
When visiting South Korea for up to 90 days, KT Olleh SIM cards and eSIM products check all the boxes for hassle-free connectivity across this tech-savvy nation.